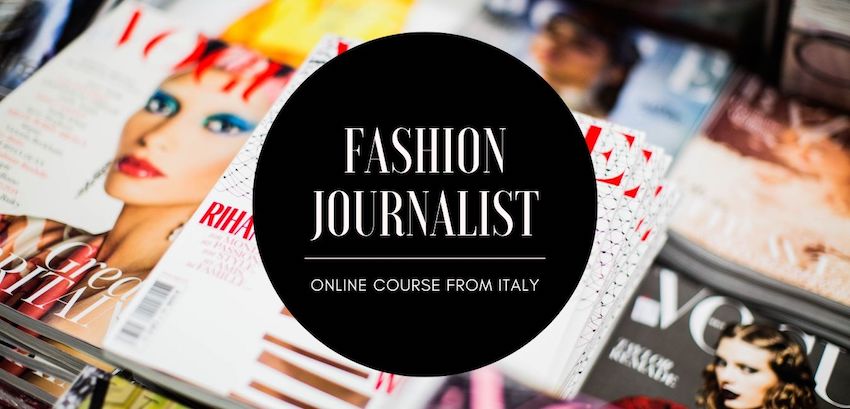 Online course Certified Fashion Journalist
You would like to be a fashion journalist but don't know how to start?

Take online course "Fashion journalist" and study fashion journalism with a teacher from Milan who writes for Vogue, Vanity Fair, Elle, etc.
If you are a fashion journalist, you can:
write for fashion magazines like Cosmopolitan or Vogue
blog, create images and write texts for big online fashion boutiques
guide your own rubric and make videos for online fashion web sites and blogs
write articles, create still life pages and content for big internet shops of clothes
be a content manager for fashion brands and manage their Instagram or Facebook accounts
All what you need for start is to study this online course "Certified Fashion Journalist"
Just in 3 months you can start to work as a fashion journalist in any country
Why to choose this course
50% time practise
To become fashion journalist you need to write. During course you will train to write different fashion articles for magazines.
Unlimited personal tutor
You will have a personal tutor who will check all your articles and practise projects
Teacher – journalist from Vogue
You will study fashion journalism with a teacher from Milan who writes for Vogue, Vanity Fair, Elle.
You can choose a version of the course:
Basic and standard versions include 6 modules, premium version – 8 modules
1 module – How to write fashion articles. Practice
Who is a fashion journalist?
How to write a fashion article. Titles
How to write a fashion article. Structure
Where to take photos for your article in a fashion magazine
Practice. How to write a fashion article
Fashion journalism in web. Tips
Research in fashion journalism
2 module – Work in glossy magazines
Fashion publishers
9 fashion writers you should know and read
How to write about fashion trends
How to write an article about trends
How to create still-life page about fashion trends for a magazine
Article about fashion history
Fashion life-style article
Fashion editorials
Fashion photographers to know
Fashion week
3 module – Collaboration with fashion brands
How to write about fashion brands
How to write up fashion interview
How to collaborate with a press office of designer brand
How to begin collaboration with fashion designers
Press days for fashion journalists
4 module – Work on TV and online channels
Video fashion journalism
Video about fashion show
Video about fashion event and backstage
Video production
5 module – Fashion journalist's career
Types of fashion journalism
Fashion blogger and fashion journalist. The differences
How to find a job as a fashion journalist
Premium version:
6 module – Basics of fashion business   
Fashion designers
What do first and second lines of a brand mean
Fashion trends: what is it
Mass market brands. Fast fashion
Production of fashion collection
Fashion weeks and fashion shows
Licensing for apparel fashion and fashion industry
Haute couture and luxury in fashion
7 module – History of fashion and modern styles
Fashion History: when did the fashion begin
History of fashion. 1900-1940s
History of fashion. 1940-1950s
History of fashion. 1960-1970s
History of fashion. 1980s
History of fashion: 1990s – today
History of fashion. Modern styles
8 module – Basics of styling 
Conceptual style
Classic style
Rock style
Romantic style
Aggressive and sexy style
Sport and street styles
Glamour style
Fashion journalist in Italy
Fashion journalist for "Vanityfair", www.Style.it, "Vogue Pelle", Sfilate.it
Fashion editor on Italian TV
Education:
Modern Literature in the History of Modern Art (Università degli Studi, Milan)
Work experience:
Fashion journalist at www.Style.it, Sfilate.it, InDigital, "Vanityfair", Mood Magazine, "Vogue Pelle"
Fashion Editor at Televisionet, PUBBLICITA' ITALIA – TVN Media Group, at "toBe Magazine"
Fashion Editor Lecturer at Elite Fashion Academy, at ED Moda Lab, Milan
Editorial Director at WU Magazine
Founder&Blogger – www.fringeintravel.com, Milan Area
Managing editor in "Mania Magazine"
Communication manager at Kering Group (brands Brioni, Gucci, Alexander McQueen, Balenciaga, Puma, Saint Laurent etc.)
Fashion shows producer for Milan fashion weeks
9 years experience in the fashion and luxury industries between Paris, Milan and Hong Kong
Marketing and brand management consultant for luxury brands
Teacher – focus on fashion styling, creativity, merchandising and brand development
Collaboration like a teacher and consultant with Marangoni institute and Bocconi institute
2. Get an access to
our distant e-learning portal
4. Perform practical tasks
and get feedback from
a teacher
5. Perform tests and final progect
FOR WHO THIS COURSE
You want to be a fashion journalist
You are a blogger or a journalist but you would like to write also about fashion
You want to work in fashion and earn good money
You would like to work in a fashion magazine or in a PR department of a designer company
START DATE
You choose when to begin your studies.
On average, the education process on this course takes up about 3 to 6 months; however, you may complete the course faster or slower, in accordance with your own schedule.
You can have a life-time access to all materials of the course.
LANGUAGE
All the lessons and practical tests are in English.
WHAT YOU NEED TO STUDY
You can watch video lessons and complete home tasks on your computer, phone or a tablet at any time and in any place. All you need for your studies is the internet access and a computer/smartphone/tablet;
Certificate
Having finished the course and completed practical projects and assignments, you get a certificate that you completed the "Certified Fashion journalist" course. The certificate is provided in English and Italian languages.
Basic version — 299 EUR (all inclusive)
Video lessons
Access period to the course – 6 months
Partly payment— no
Standard version — 399 EUR
Video lessons
Practical tasks during course
Answers of teachers to questions during studying
Evaluation of the home tasks and feedbacks by the teacher
Final project 

and evaluation of it by the teacher

Electronic certificate
Access period to the course – 12 months
Partly payment— 2 months, 209 euro per month
Premium version — 499 EUR (all inclusive)
For those who want best results
Video lessons
Practical tasks during course
Answers of teachers to questions during studying
Evaluation of the home tasks and feedbacks by the teacher
Final project

and evaluation of it by the teacher

3 Premium modules about fashion and styling
Original certificate
Free mailing of a certificate on your address
Life-time unlimited access to the course
Partly payment— 2 months, 269 euro per month
Svetlana, Italy
Education at the Italian school is a new step in my professional life. It was here where I learned all the theoretical foundations, got a new profession I dreamed about thanks to the excellent, very professional, wonderful teachers!!!
Natalia, Greece
What's important is that nobody rushes you nowhere, makes you complete anything within tight deadlines. You can study materials and complete assignments when it is convenient and you have a mood for it.
Svetlana Trapeznikova, Russia
I finished the course Fashion Journalist, during the study process I learned a lot of new things, the fine things, characteristics of this sphere, this information I'd never learned somewhere else. I also liked that there was always a feedback, comments from teacher. Now I will strive for new heights!
Julianna, Belgium
All materials are made and decorated very well, and this is a great modern alternative to outdated lectures at other institutions. Everything was clear and informative!
Olga, Germany
All modules contain unique information you can't find in any other sources. I would like to thank the entire team of the School for your Italian creativity and elegancy! For your ability to teach me the rules and how to break them finely.
Valery, Russia
I was totally thrilled with video lectures from Italian instructors, who told about the history of fashion and style in competent and accessible form. Sometimes my family would join me in watching them. Secondly, all my knowledge got orderly arranged in my head and many things became clear.
Ekaterina, Saudi Arabia
Thank you very much for the knowledge provided, I really hope to implement them in practice in the nearest future!
Eugenia, Portugal
The result is this: all knowledge and skills I obtained while studying in the Italian School of Fashion and Style were very current, useful and necessary to properly and professionally work as a real fashion journalist.
Helena, Greece
Educational materials are clear, understandable, flexible assignments – it was perfect for me. If I was asked by someone, "Is this school is good to study this course" my answer would be definitely "YES".
Irene, China
I would like to say that even if my profession is not connected to the fashion world, this is just a hobby, but education in the Italian E-Learning Fashion School made me think about changing the scope. I plan to go further in this direction.