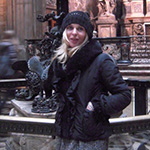 Graduated from the course "Stylist/Image Consultant" in 2012.
Had prior education of a make-up artist.
First I would like to increase my enormous gratitude to Ekaterina Kulakova and Italian instructors for their quality and professional work.
My decision to learn to be a stylist came from the decision to deepen my knowledge about fashion and style. Today's clothing market offers multiple styles and quick change of trends. It is impossible to figure it out without special knowledge. My acquaintances, friends and family often asked me for advice, sometimes I accompanied them to shops, gave advices, which was an additional motivation. I understood that I my everyday ideas of fashion and styles are not sufficient, because fashion trends change all so often. Therefore I had an urgent need to learn to be a "practicing stylist". After reading the education program of the Italian School of Fashion in Style I decided that it's an ideal option for me.
During the process of studies I received more than just theoretical knowledge. Practical assignments really helped me to establish proper and precise procedure to working with clients.
The result is this: all knowledge and skills I obtained while studying in the Italian School of Fashion and Style were very current, useful and necessary to properly and professionally work as a stylist/image-maker.
During the process of studies I received more than just theoretical knowledge. Practical assignments really helped me
Evgenia Mikhaylovskaya