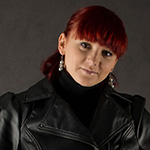 Graduated from the course "Stylist/Image Consultant" in 2012.
I've came across an article about shoppers, followed the link to the website of the Italian School, and I got hooked! After reading all the information and watching the video presentation I understood that it's exactly what I was lacking. My mother made me a present by paying for these courses.
I was totally thrilled with video lectures from Italian instructors, who told about the history of fashion and style in competent and accessible form. Sometimes my family would join me in watching them.
Secondly, all my knowledge got orderly arranged in my head and many things became clear (for example, why it is not always possible to pick particular colors for "fall" and "winter" types).
Thirdly, I've got a lot of various ideas how else information about style can be promoted in our country, thus educating Russian people to finally think about what they wear on a daily basis!
All my knowledge got orderly arranged in my head and many things became clear
Valeria Nakonechnaya