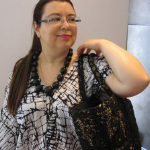 Graduated from course "Wardrobe Stylist & Personal Shopper"
Why did you decide to learn fashion?
I made a decision to study fashion because I actually love to study. I know many men and women who have a lot of free time but they only waste it and are not interested in anything. I was surfing Italian sites and forums looking for an education in fashion and I found Italian E-Learning Fashion School by chance. I liked the presentation and then decided to apply for the first course.
What did you like about your education?
What did you know throughout your education process?
Excellent education, new and non standard approach, young faces, exiting atmosphere, pleasure to share the knowledge… Well-done, what a brilliant idea! Of course I only made my first step in a beautiful world of fashion, but it was a good start.
First of all I got the information on colouristics because I had never faced with it before. And all the information on history of fashion and creating fashion houses was a complete novelty for me. It was extremely interesting.
I had my own style, my Italian friend owns a fashion store in the town I live in, so I can find amazing clothes items made by small private dressmaking and tailoring establishments. They produce piece goods that look very creative and fresh. And I really enjoyed getting additional knowledge that I use at work now. After finishing the first course I can courageously give advice and private consultations, I always pay attention on what people wear on the streets and make my own analysis. So I am very happy with it.
In your opinion, is e-learning form of education effective in mastering style and fashion skills?
E-learning form of education is a really good thing at least for me. It is convenient and clear, there is a feedback and a huge amount of materials. The Italian E-Learning Fashion School team put a lot of work into it. Bravo!!!
What are the results of your education as a wardrobe stylist?
The result of my education is a strong wish to change my work and to devote the next period of my life to style and fashion. I will surely continue my education in Italian E-Learning Fashion School and think about how to apply my knowledge profitably.
Thanks to Kate and Italian stylists, see you soon!
Yana Kopke, 47