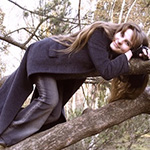 Graduated from the course "Stylist. Personal shopper. Image Consultant"
Why did you decide to study for a stylist/image maker?
During the past several years I was attending dancing classes and giving stretching, strip-plastics and pole dance lessons. When thinking of ideas for performances I understood that in order to make an impressive image presentation it is important to properly pick the stage costume. In order to do so in a quick and quality manner it is naturally necessary not only to apply your own fantasy and sense of taste, but also to possess knowledge in stylistics, image, coloristics, and fashion. During education I understood that I can apply the knowledge gained in other areas as well.
What did you like about the education? What did you learn in the process?
What's important is that nobody rushes you nowhere, makes you complete anything within tight deadlines. You can study materials and complete assignments when it is convenient and you have a mood for it. All information is conveniently structured, therefore you can orderly arrange it in your head, After the education I got an idea on how to make an interesting fun image by using accessories and color contrasts, how to mask body deficiencies and attract attention to beauties.
All information is conveniently structured, therefore you can orderly arrange it in your head
Natalia Pravdina