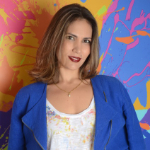 Graduated from the "Professional image consultant" courses online
– Why did you decide to learn fashion?
-because i love style, it's include fashion lessons. i love to understand where fashion came from, why trends changes fast….
– What did you like about your education? What did you know throughout your education process?
– i loved to learn how different things are in italy, in us and brazil… each country has his own costumes, and different points of view about many things! it's amazing! in this course, for exemplo, i loved to see that you can play with colors, even if it's not your "season". i really loved it!
– In your opinion, is e-learning form of education effective in mastering style and fashion skills?
– well, i would love have more materials to read… as i sent an e-mail before, some teachers are impossible to understand at all. riccardo carrara is amazing! he has a clear english, he explain details, he knows how to teach. i loved every single class!!!!
– What are the results of your education?
– i love open my mind! learn things that i knew before, from a different way is speechless! for sure i became a much better professional in my area.
i would like to thanks everyone for this amazing course. i wish all the best for all of you guys! grazie for all!
Fernanda Leony, image consultant and personal shopper, 37, Salvador, Brazil