Free online webinar with Italian
fashion-blogger from Milan
"How to become a fashion-blogger"
There are people who get big fees just for trying on designer clothes or taking part in fashion-events and then posting their opinion in blogs or social networks.
These people are called fashion-bloggers.
This is a new profession in a fashion world that unites style, fashion and journalism.
Are you interested in trying yourself as a fashion blogger?
We invite you to a free webinar with Italian fashion-blogger
"How to become a fashion-blogger" 
Popular Fashion blogger Eleonora Milano will tell you 
who bloggers are today, and how you can become a successful  fashion-blogger.
Program of a webinar
Who is a fashion-blogger today
Is it real to become a successful fashion-blogger
Who is considered as the most successful and famous fashion-blogger in a fashion world? Who is the most famous fashion-blogger in Italy now
How do fashion-bloggers get their fees
How do designer brands collaborate with fashion-bloggers
How much time do you need to promote your fashion-blog and start to collaborate with designer brands
Is it true that designers get inspiration for their collections from different fashion-blogs
Is it true that nowadays people who start fashion brands in a fashion world are fashion-bloggers
What should you do to start a collaboration with designer brands
Find out how to become a successful fashion-blogger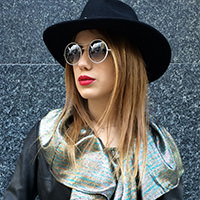 Fashion-blogger, journalist, personal shopper
Lives and works in Milan, Italy
Fashion-blogger and journalist (her fashion-blog – eleonoramilano.com)
Works as a fashion-journalist and blogger for a famous Italian fashion magazine Glamour.it
Writes articles for magazines GoWoman, Vain Magazine, Chooze e Movie&Style, program on Italian web-TV "C100 web tv"
Collaborates as a fashion-blogger with different companies like Italia Independent, Stroili Oro, AGL e Okhtein, myluxury.biz
She constantly participates in different fashion-events: as a fashion blogger she visits Fashion Week (e.g. such presentations as Marani, Cristiano Burani, Costume National, D&G, Ravizza, Genny, Lualdi, les copain, anteprima, gregis, a una Wang, Iceberg, Nicholas K, Ferragamo, Rebecchi, Richmond, Ter et Bantine,Furla, Coccinelle, Cruciani, Breil, Alessandra Zanaria, O jour), press-days and other events.
How to participate in a webinar
The webinar will be on the 9 of December at 10.00 AM GMT
You need only Internet access and a computer. You don't need to install any programs
The only condition for participants is to share the information about this webinar in one of your social networks below
The participation is absolutely

FREE

!
What you need to do:
1. Fill in the contact form below
2. Click at "Share" in one of the social networks.
1 day before the webinar you will get a link for participation on your e-mail.
Registration is now Close.