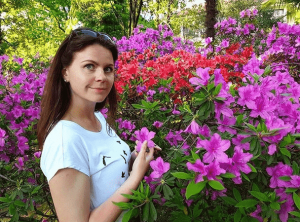 Alina Moroz
Finished the course Certified Fashion Designer: for beginners
Alina Moroz tells us about her studies:
I decided to study as a designer because I want to reveal my creative potential and to make the world more beautiful, especially I'd like to make women happy. I like beautiful, elegant and comfortable clothes, and I would like to take part in its creation. In the work I really appreciate all the creation process, from the sketch to the finished sample. I like this feeling of creation. It makes me happy, especially when the work has a success and finds approval from others.

I like to learn from the professionals of the Italian E-Learning fashion school. Everything is clear and to the point, it is very close to my approach to the case. Many examples, excellent lessons. Nothing extra. Since I am new to this field, the whole world is opening up for me! It is very exciting to start doing real work, but I try. Earlier I already studied online and I really like this format. Thanks you!
We are presenting you Alina Moroz's practical home tasks