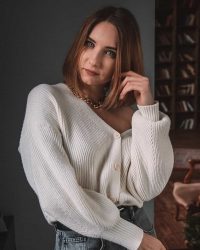 Ksenia Antipova, Italy
Finished the course "Wardrobe Stylist and Personal shopper"
During the studying, Ksenia completed the task of doing personal shopping for a real person.
We asked her to share her experience.
How did you find your first client?
– With the first clients, I think that there are no problems, because the girls / women I know, having learned that you are studying to be a stylist, they want you to dress them up!

I think that the problems with the lack of customers arise from the lack of advertising, and the ability to sell yourself. It is harder to find not the first client, but 5 and 10 people.
What was the most difficult part of your first shopping experience?
— The difficulties were due to quarantine. I had to spend 2 days pre-shopping around the showrooms of the city.

By the way, there were no problems with the client, the girl was not indignant, she was ready for experiments, I justified her every choice of things, she agreed.
What mistakes did you make?
– I definitely allowed some, although now fashion overcomes edges and barriers, going beyond the compatibility of things, meaning more of my own style, or "I'm an artist, I see it that way."

It is necessary to fix all this with the correct facial expression and gait. Perhaps a mistake today will become a fashion trend tomorrow.
What did you get to do while shopping?
"Most importantly, we managed to fulfill the client's request, fit into the budget and leave her happy with things that correspond to her inner world.
What advice would you give to aspiring stylists?
– If you're afraid, work for free/for little pay.
You need to practise more and "the eye must travel."
The advice to "read a lot" is always good.