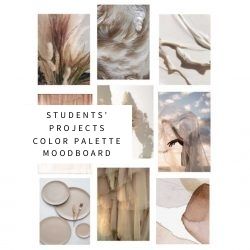 Tatiana Kolesnik
Finished the Full 1-Year Fashion designer course
The teacher of the course comments on the work of Tatiana:
During this course, students do a variety of hands-on activities such as sketching their collection.

The task was to:
Create a mood board with the colors of your future collection.
You need to find images to get the whole color palette of the collection.
Sketch your collection.

The sketches are made in a very interesting technique – a graphic collage.
Such sketches are created using a graphics program and are analogous to the manual collage technique.

In this technique, proportions and the unification of all sketches into one collection are very important.
Particularly noteworthy are the sketches created using photographs of flowers.

Again, this is a very design trick.
This is how unique things are creating.
We are presenting you Tatiana's practical home tasks