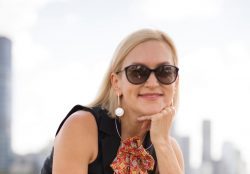 Svetlana Kara, Australia
Finished the course "Wardrobe Stylist and Personal shopper"
Svetlana tells us about her studies:
— Why did you start studying at the Italian E-Learning Fashion School?
When I decided to study style professionally I couldn't imagine a better option than studying at the Italian Italian E-Learning Fashion School.
The main criterion was that you could study online with teachers from Italy and practice there after the end of the course.
— How did you start working with the first clients? what difficulties did you face?
I started working with the first clients immediately after the first stage of training. These were my friends and acquaintances, I began to help them with the choice of style, analysis of the wardrobe.
— What is your business now, what do you do as a stylist?
Three years ago, I officially registered my business.
— Is it hard to work with Russian or Australian women in style?
It is easier to work with the Russian-speaking audience in terms of understanding the request and the same mentality. Australian audience took time.
Recently, one of my clients, a top Manager in a medical institution, opened a business and asked me to create the desired image.
And it's an exciting moment when you find the right connection between business and image, and connect everything together.