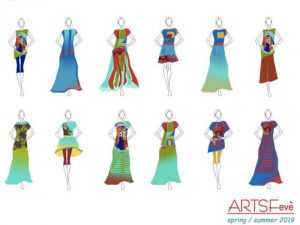 Vera Neel, USA
Finished the course Fashion Designer: PRO
Vera Neel tells us about her studies:
I love beauty and understand it. This is not only external beauty, but internal.
It seems to me that I am ready to start creating my clothes in all aspects. I already have got education in marketing and management, expertise of industrial products, working experience in senior positions, the Polish School make up, education in graphic computer design, video editing, training in painting, studying at Lara Soboleva's school of fulling quality clothes and many other fulling master classes.

For a beginner designer, you may not have all this knowledge, but they are a big plus. The course «Fashion design: how to create a collection PRO», where I studied, enlightened me in which direction to go and gave me good knowledge in the fashion industry and creating collections. I just recommend this course to everyone who is somehow connected with sewing or fulling!

I studied online before, so this method of training at the Italian E-Learning Fashion School suits me very much: it is possible to study at any time that is convenient for me.
But such a training system involves self-organization and responsibility. Therefore, students need to be able to properly organize their time in order to manage to do homework on time.
I like how the lessons are prepared: a lot of videos, a lot of information, and then homework for each lesson.
A lot of interesting things about fashion trends and styles, about where to start working as a designer, how to create and present your own collection of clothes.
We are presenting you Vera Neel's practical home tasks