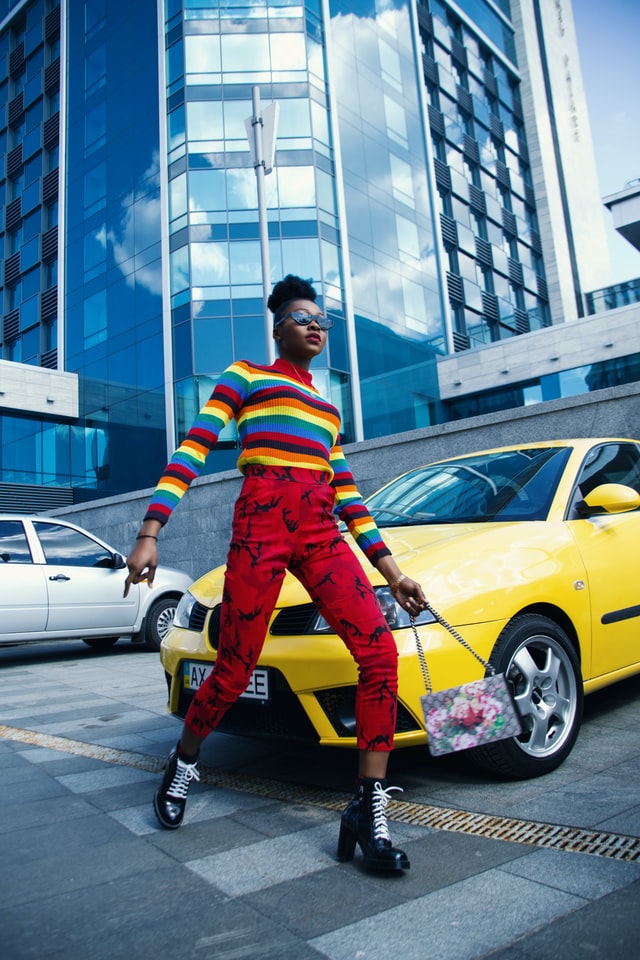 For several years now, the combination of clothes with different patterns and prints in one look has been considered fashionable and stylish. And still, not everyone knows how to combine polka dots with stripes, flowers with geometry, snake with leopard print, etc.
However, combining things with different patterns and prints is a very difficult task, because there are always several risks: to look like a clown, overload the image or increase your body visually in volume.
We decided to find out the opinion of Italian stylists who teach in our school, whether it is worth combining clothes with different patterns and prints among themselves and how to do it right.
Become a successful fashion designer and open your own fashion brand
From 06-02 till 10-02 study fashion design in Italy online with a BIG discount
+ unlimited access to the course as a gift for free!
Riccardo Carrapa (stylist, designer of his clothing brand)
Should we combine clothes with different patterns and prints?
Frankly, I do not like this new trend – to mix everything in a row. The image becomes too eccentric, too catchy and loses its elegance. In my opinion, all these mixes look good only on the pages of glossy magazines in photo shoots.
In real life, a clean and minimalistic outfit would look more advantageous, because it distinguishes a person, not his clothes. Still, don't forget that we do not exist for clothing, but clothing exists to emphasize our merits.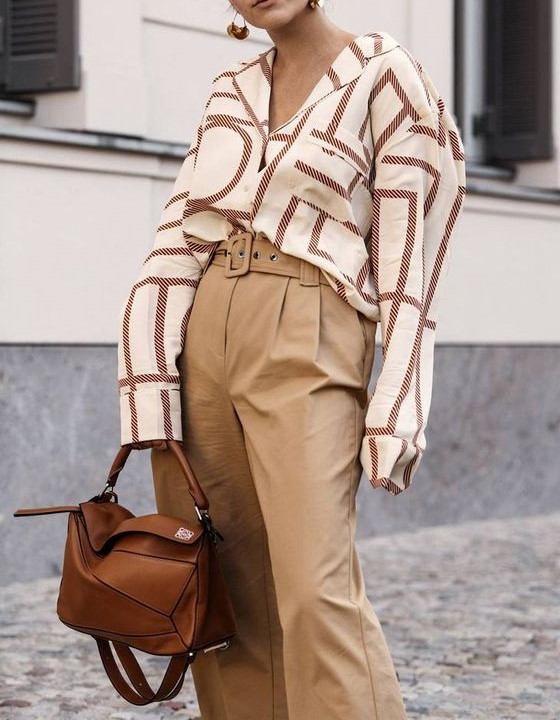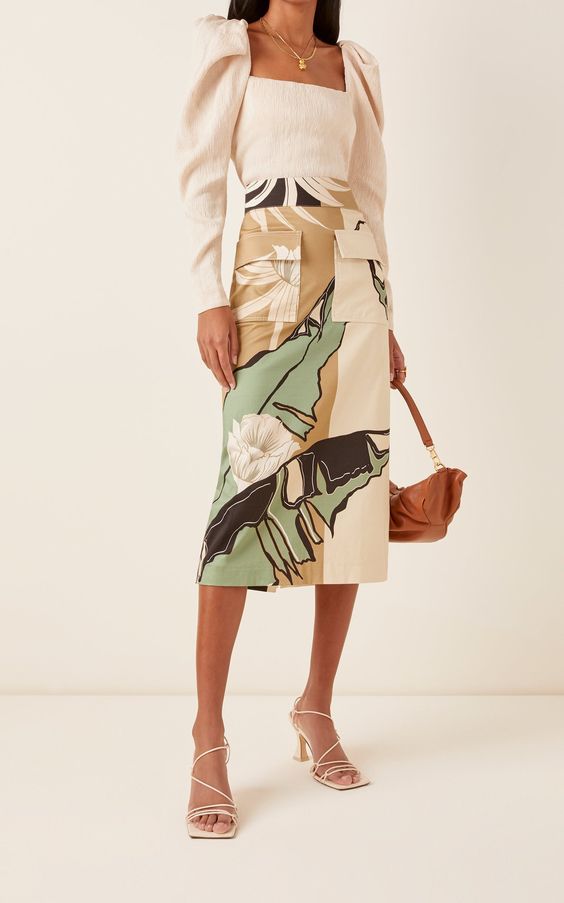 Antonella Petrecca (fashion designer)
Should we combine clothes with different patterns and prints?
Yes, this is a very popular trend in the fashion world. Now at shows in the collections of different designers you can find a huge number of mixes of different patterns and prints. The only problem is that such a combination works not always and not everywhere.
The first important question is the body shape of a person.
Classically it is believed that all parts of the body on which there will be clothes with prints / patterns will look larger and brighter. This means that if there is a problem in some part of the figure, it is better not to wear clothes with patterns. That means that this trend is intended only for models and girls with a model figure.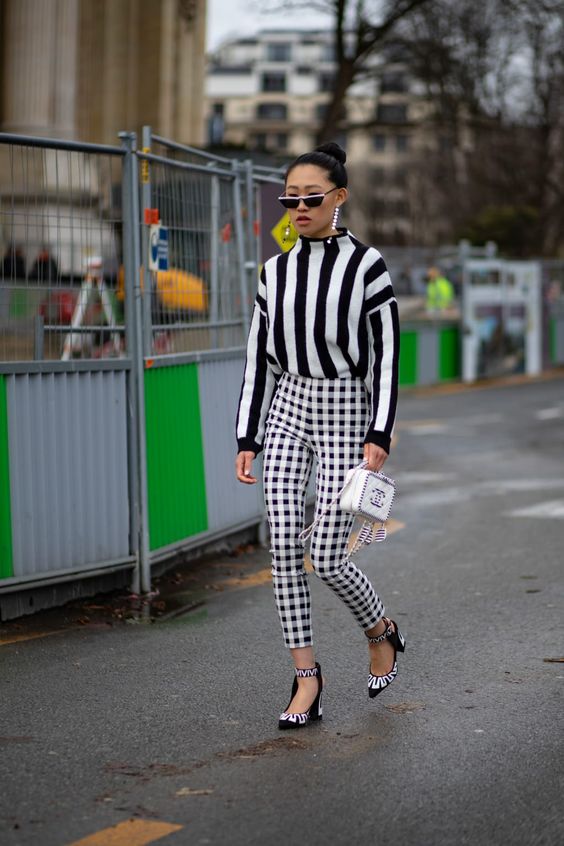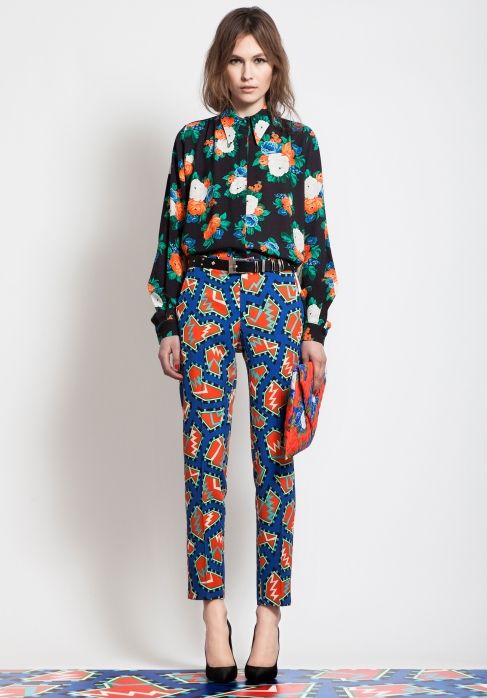 The second question is what compositional rules should be followed in the selection of things with different patterns.
I like to imagine the look of a person as a photograph: in the composition of the photograph it should be clearly understood where the top and bottom are. It is the same with a person – all square and linear prints / patterns should be at the bottom of the outfit, and all oval and semicircular ones should be at the top. It's like a repetition of the body lines that women would like to have: semicircular hips and chest and straight long legs.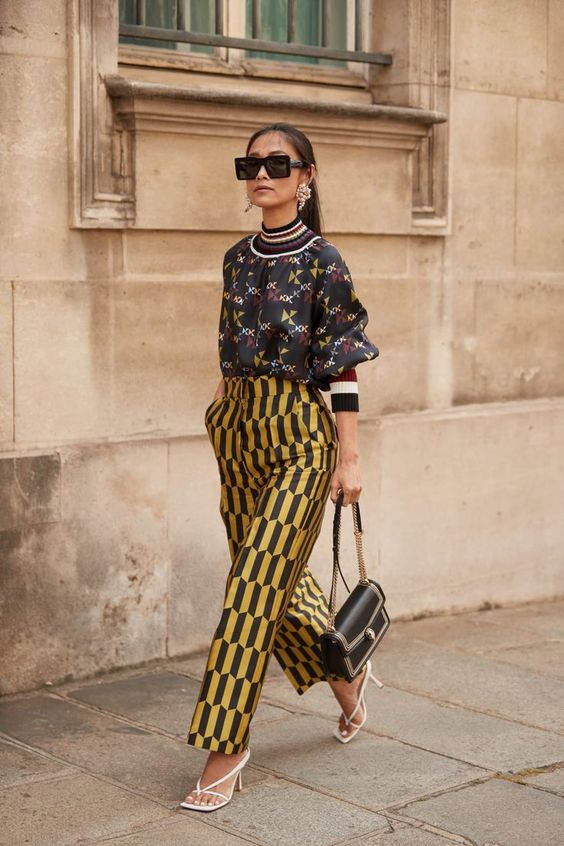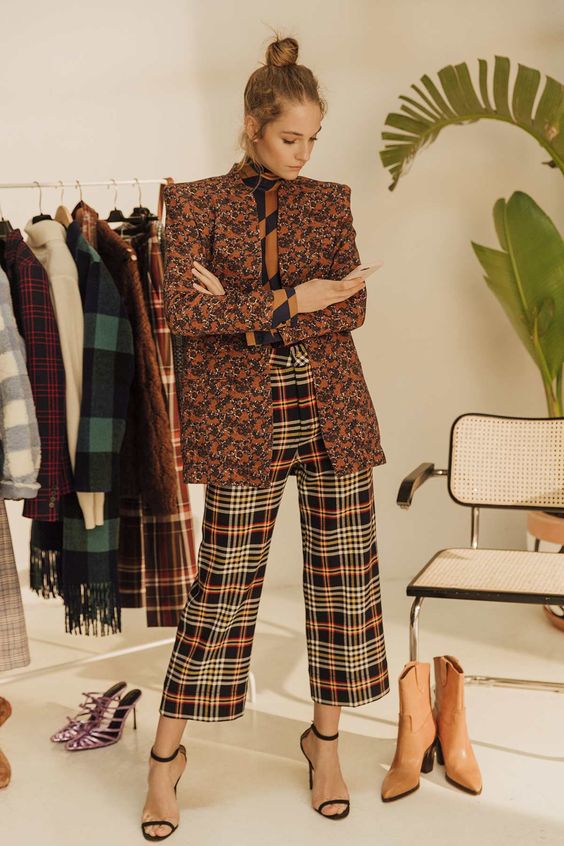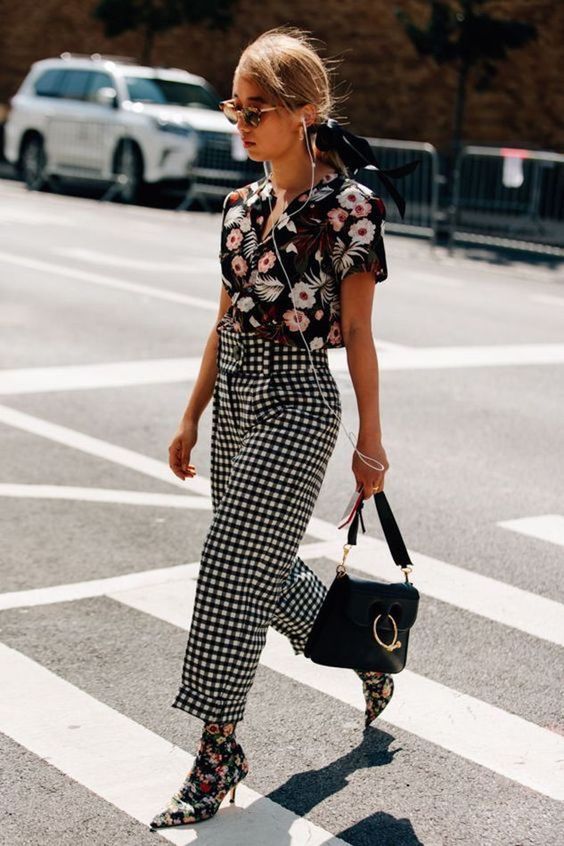 Paola Amati (stylist, personal shopper)
This is a current trend in Milan, but personally, I don't really like it. This is also the case with color blocking (a combination of bright colors in clothes) – you need to be very careful so as not to create an overly heavy and exaggerated look.
Combining various prints and patterns with each other is very difficult, even if it's trendy.
I would like to give some recommendations on how best to combine prints and patterns with each other:
If you choose a thing with an animalistic print (e.g. leopard), you do not need to choose things in a set with another animalistic print. One thing in a similar color is enough.
Do not use horizontal stripes with vertical stripes.
It is better to combine only 2 things with different patterns and prints, no more.
When combining different patterns, do not choose clothes with similar patterns (similar circles, flowers), because the outfit will look too pretentious. On Instagram, fashion bloggers have such images that look bright and unusual, in real life they will most likely look strange.
The key of such combinations is the use of clothes with different patterns made of the same fabric (cotton, silk, synthetics) and in more or less the same color scheme.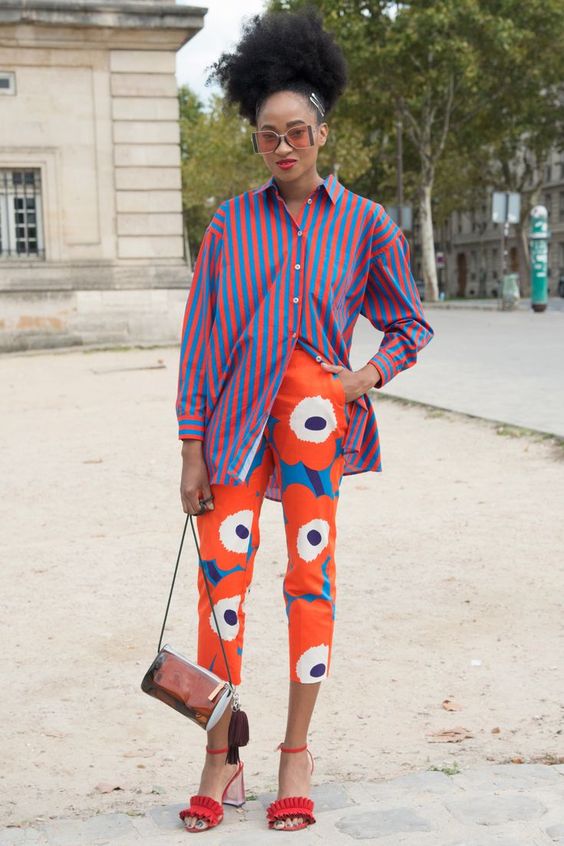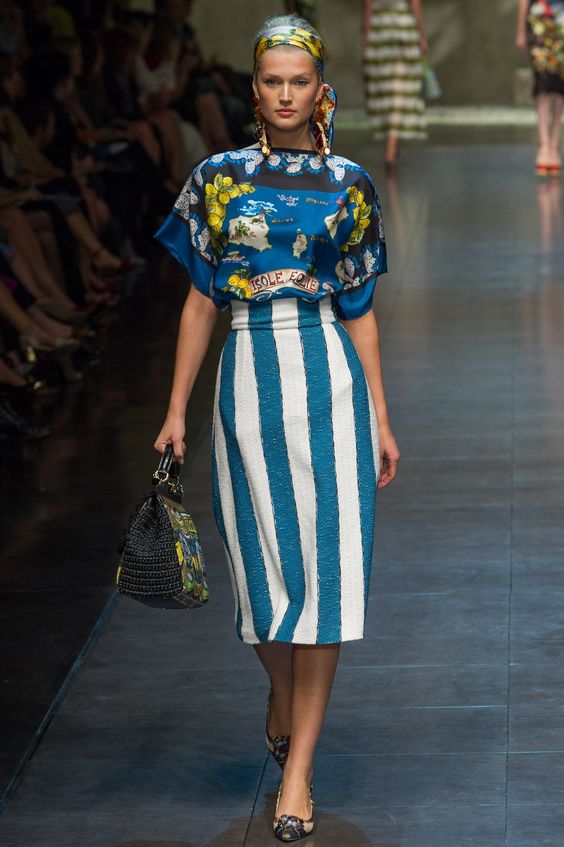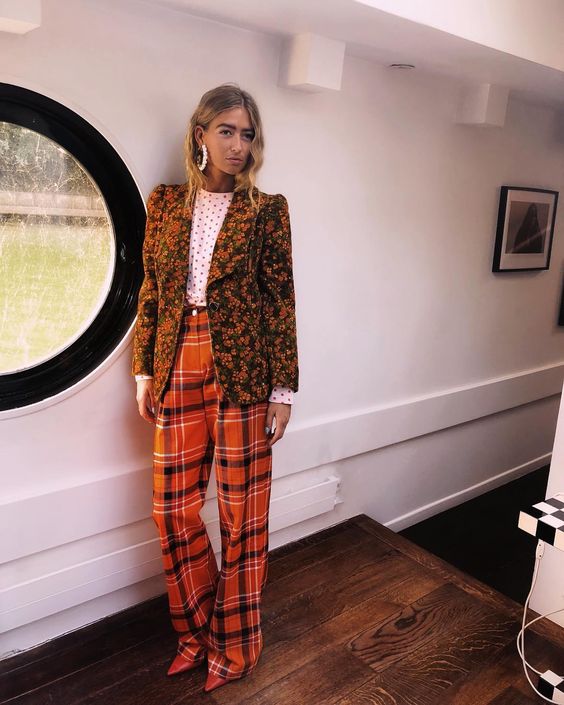 Silvia Stefanini (fashion stylist and fashion editor)
In my opinion, the combination of prints in clothes today is no longer something strange.
There are even certain prints that are called neutral, i.e. they match all other prints and colors. For example, you might call stripes a neutral print (most often a nautical-style horizontal stripe).
The most successful and already classic print combinations are:
combination of stripes with a floral print
combination of polka dots with a floral print
combination of polka dots with stripes