The main difficulty for those going shopping in Italy is selecting a city. There are many opinions, which are often contradictory, which city is best for shopping. As a saying goes, all your geese are swans, therefore those living in Rimini say that you shall go shopping in Rimini. Those living in Milan say that it's paradise for shopping, and there's nothing to choose in other places. For your convenience we offer you our guide, based on the experience of personal shoppers and stylists of the IELFS in different cities of Italy, as well as based on their clients' opinions.
This сue-card will help you to plan shopping for yourself and your clients.
Shopping in Italy: Milan
Capital of the Italian fashion. City offers the largest assortment of luxury designer brands and clothing from little-known beginner designers. Here you can find very expensive shops as well as sound mid-scale Italian brands of high quality.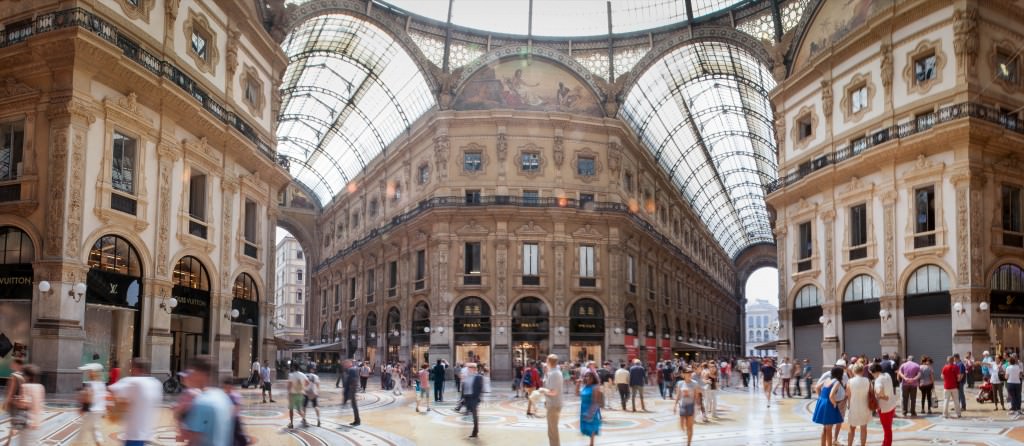 Pros of shopping in Milan:
You will see all luxury Italian brands, find all boutiques with current collections of famous designers;
You will find large choice of shoes and handbags in shops or at factories;
If you have extra large or extra small shoe or clothing size, you will find specialized shops of irregular sizes;
If you need interesting vintage things or accessories, you can visit specialized vintage shops. Once I've seen a very beautiful 1980s Chanel handbag in one of such shops for €220;
You'll see the most fashionable people in Italy;
If you're interested in items by little-known young Italian designers, who make ultra-fashionable affordable things, you may visit their showrooms in Milan (their advantage is that often items are only made in single units from top-quality materials and have unusual design);
If you need a fashionable and stylish fur coat, Milan offers great selection of furs. Prices start from €2'000. However, all furs and designs are very beautiful;
You have a chance to visit many outlets (shops from factories of famous designers with 30% to 70% discounts).
Cons of trip to Milan:
There is no sea in Milan, and you have to travel for 3.5 hours to it. This is a major disadvantage. In this sense you can understand tourists who go to Rimini to combine the pleasant with the pleasant – shopping and the sea
It's more expensive to travel to Milan. There are no cheap charter flights, hotels are more expensive, transfer costs more as well. Central streets most visited by tourists are where the expensive luxury boutiques are located. For mid-class brands, you have to look somewhere else;
Small choice of economy segment brands;
When shopping wholesale, warehouses of luxury brands establish high minimal purchase limit – from €3'000;
There are not so many spaccio from factories with clothing of famous designers.
You can combine shopping and practice in fashion and style under the guidance of the experienced Italian teacher! If you interested in fashion workshop in Milan, please, leave your contacts here
Shopping in Italy: Rimini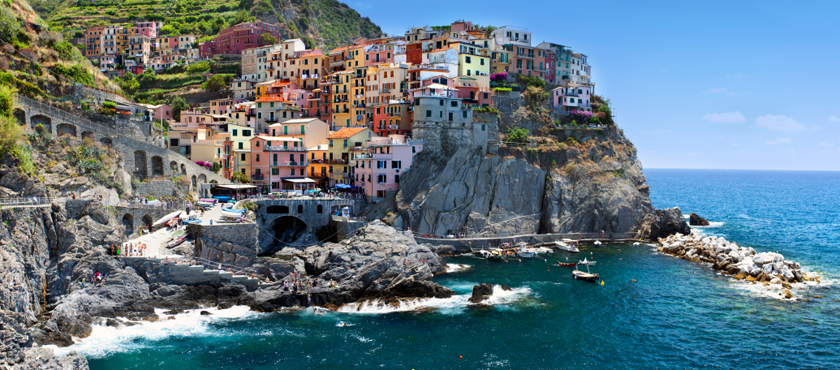 According to estimates of travel agencies, Rimini is the most popular destination among tourists. On one hand, Rimini is a sea resort, on the other hand it's a great place for very beneficial shopping.
Pros of shopping in Rimini:
You can combine shopping, sightseeing tours and sea vacation;
You can find very cheap things from both designer brands on sale and average Italian brands. At wholesale warehouses you can even find current collections of famous brands (Fendi, Roberto Cavalli) with up to 40% discounts;
You can visit a huge number of shoes and handbags factories. Nearby Rimini there are spaccio from factories of Vicini, Baldinini, Pollini, Sergio Rossi. 1.5 hours drive away, in Marche region, there is an entire district of spaccio from factories (Prada, Fabi, Fabiani, TODs and many others). And you can by both wholesale or retail;
Shops with wholesale prices offer various categories of things from middle-class Italian designers both wholesale and retail: clothing, shoes, inexpensive wedding dresses, fashion jewelry, full dresses, men's and women's business suits, swimsuits, handbags, things of non-standard sizes;
You can visit 3 factories of leather and fur items;
Trip to Rimini is the cheapest in terms of price (cheap package tours are available to Rimini).
---
Cons of trip to Rimini:
In Rimini there is a limited selection of luxury boutiques, therefore you won't be able to find some brands here;
There are no specialized vintage shops and showrooms of little-known Italian designers in Rimini;
Environment in Rimini is much simpler. And, naturally, there are crowds of tourists.
Shopping in Italy: Florence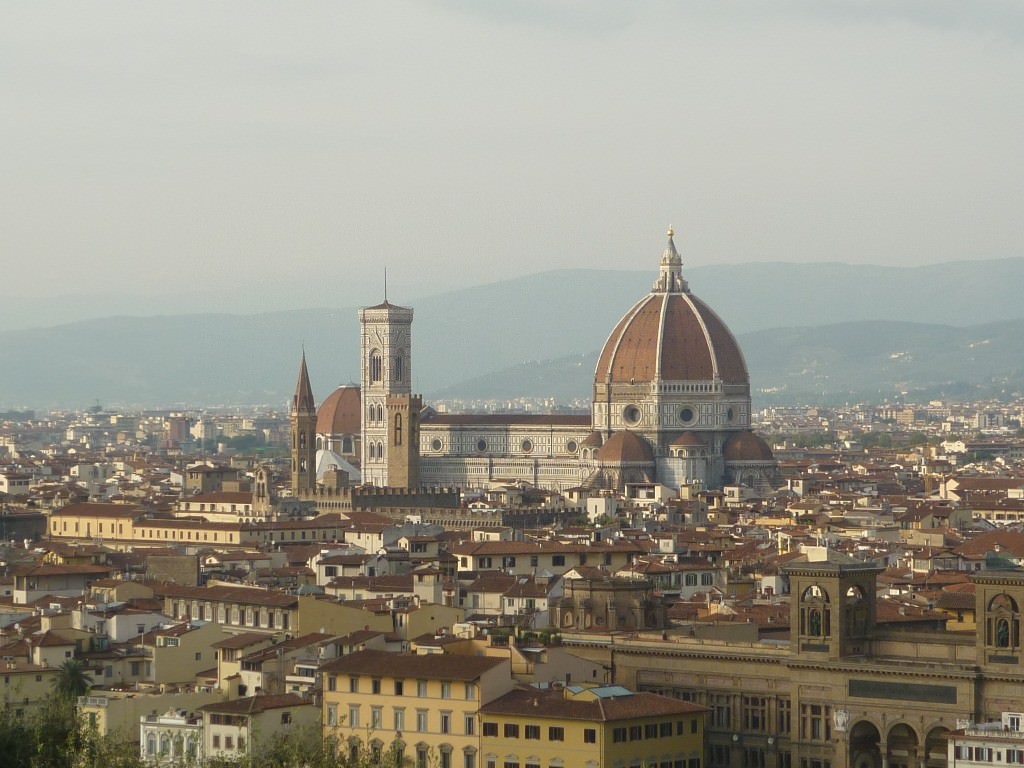 Italians themselves call Florence their most beautiful city. It is a city that preserves the Italian spirit. Masters from Florence pass their knowledge and experience to produce jewelry and leather items from generation upon generation. This is the place of origin of Gucci brand, and the first fashion show in Italy in the XX century took place here.
Pros of shopping in Florence:
City of outlets and factory spaccio. In suburbs of Florence there are spaccio with great discounts from factories of Prada, Gucci, D&G, Fendi, Roberto Cavalli and many other designers. Besides, in these spaccio there are things from new collections with discounts available;
There are a lot of workshops in Florence, where private masters produce beautiful shoes and handbags from leather. Actually, classical Italian high-quality leather handbags are made in Florence;
You can attend 2 factories of furs and leather nearby Florence.
Cons of trip to Florence:
Airline tickets and hotels are more expensive than in Rimini (however, if you came to Rimini for vacation, you can travel to Florence by train in just 1.5 hours);
You won't find showrooms of little-known fashionable Italian designers in Florence;
There are not very many things of middle-class Italian brands and economy segment, as well as things of non-standard sizes.
Shopping in Italy: Venice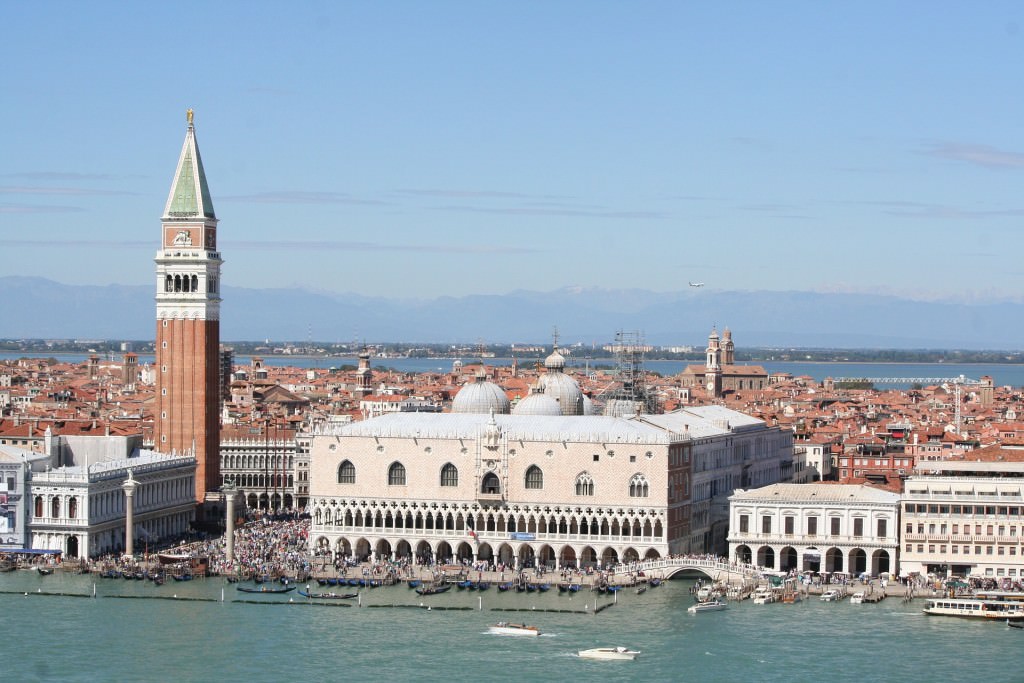 Venice is a city that leaves no one untouched. Many people fall in love with Venice and return again and again. It is a city which is a must visit place for everyone who loves beauty, history and unusual places.
Pros of shopping in Venice:
You can combine sightseeing with shopping;
You can find interesting things in outlets, because there are not so many tourists here, as compared to Rimini or Milan;
You can visit shoe spaccio from Italian factories.
Cons of trip to Venice:
In Venice itself (I mean the old town with channels) things are several times more expensive. You can only find good deals there during the sales period;
To visit all outlets, spaccio and shops of middle-class Italian brands you have to go to suburbs;
Assortment of things is not very big;
Wholesale shopping in Venice itself is impossible. You have to go to Verona, Vicenza or Milan.
Shopping in Italy: Rome

Rome is a city where every building and every street have their history and unusual past. You can spend the entire week sightseeing, but only visit a limited number of interesting places and sights. Tourists who come here always want to combine sightseeing with shopping.
Pros of shopping in Rome:
Good way to combine excursions with purchasing clothing and shoes;
Great selection of luxury brands, like in Milan;
Nearby Rome there are 3 outlets popular among tourists. They feature items from middle segment little-known Italian brands as well as those from famous designers with 30% to 70% discounts;
In Rome there is a large choice of fur tailor shops, where you can buy or order a fur coat. Rome is home of the Fendi laboratory, which makes the most expensive and beautiful fur coats in the world. Also, currently it's a place to find some of the cheapest fur coats in Italy – some of them only cost €1'200-€1'500;
There are outlets and shops with mid-level prices in Rome itself, so your shopping can be inexpensive;
Nearby Rome there's a coast and a sea, therefore you can combine shopping with beach vacation.
Cons of shopping in Rome:
Very few spaccio of shoes and clothing from factories of famous brands. If you're interested in new collections with good discounts, you'll have to go from Rome to Florence – about 2.5 hour train ride;
Crowds of tourists, many people on the streets, which complicates moving around;
Rome is not suitable for wholesale purchasing, because there are not a lot of wholesale warehouses here.