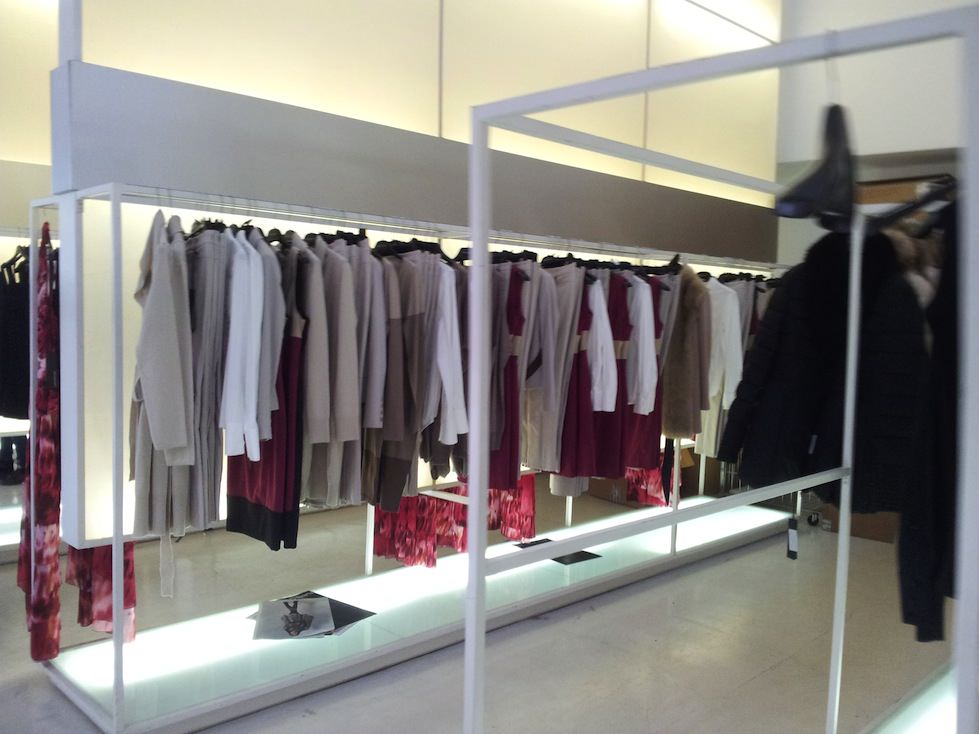 In fashion industry people often speak about "showrooms". So what is showroom? People say that in showrooms you can buy things at low prices and order collections for shops. Sometimes showrooms are mentioned as a sort of private spaces, where only special people are allowed and where fashion shows take place. Some shops call themselves showrooms instead of boutiques.
What's the difference? What is showroom in reality?
Showroom has several meanings in the world of fashion:
1) Place, where samples of a factory or a manufacturer's things are presented, where you may order a collection for your shop.
Showrooms, or "demonstration halls", how they're called sometimes, may be opened directly by a factory or by a distributor (a company that purchases clothing from the factory and later resells it to small wholesalers).
In other words, it's a place where buyers (wholesale purchasers) come to procure collections to resell them in their shops.
In Europe, this is the most typical idea of  what is showroom.
There are public showrooms as well as those accessible only based on advanced arrangements.
Sometimes there is a model or several models present at such showrooms, who can try things on and show it off to clients.
The more famous is the brand, the harder it is for new wholesalers to get access to its showroom. If you've decided to open a Prada shop in your town and look for this factory's showroom in Milan to purchase directly from them, your chances of being invited to such showroom are most probably next to zero, because the factory already has official distributors around the world.
There are 2 types of showrooms in Europe: showrooms with actual items and showrooms with samples.
In a showroom with actual items you can purchase everything on display at the floor and take it with you. In showrooms with samples you can just see a collection, place an order and wait for it to be manufactured for you.
2) Tailor shops ("Salons"), where small manufacturers present their products.
It's often that a manufacturer produces items in that very showroom. This is true for fur showrooms (fur coats), showrooms specialized in shoes, handbags, wedding dresses, etc. They mostly feature craftwork items or unique things.
For example, in Italy there are a lot of fur showrooms and shoes showrooms. In Russia you can come across a clothing showroom, where a tailor or a designer tailor makes things to order.
3) Place featuring and selling things of several desires: famous as well as little known.
Such showrooms most often are located not in a mall, but in apartments, studios, etc. Such showrooms are normally private – clients find out about them online or from a word of mouth, and normally it's necessary to schedule a visit in advance. Some of these showrooms are very tiny (a-la home shopping), but some are actual studios with lots of things.
What is showroom for?
Purpose of such showrooms is that they often feature items from beginner designers that are impossible to find in usual shops. Also such showrooms may feature items from famous designers imported from other countries at low prices or with good discounts. Prices for things are low, because there are no costs of renting a shop in a mall, and no payroll expenses.
Boutiques and shops often start their business from being such showrooms.
This idea of what is showroom is most common in Russia and Ukraine, for example.
4) Usual shop or boutique.
Some boutiques and shops call themselves showrooms for advertising purposes or to raise their status.
For example, I've found the following reply from one of such shops-showrooms, explaining them calling themselves a showroom:
"…showrooms lately are mostly shops or offices serving as shops, but they're located away from high traffic places (busy streets or malls). We're located in the very heart of Moscow, but in a tiny passway away from the major shopping routes."
It's hard to accept such idea of what is showroom, because based on it one may call literally any space containing clothing items a showroom.