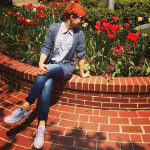 Graduated from the "Wardrobe Stylist & Personal Shopper" courses online
Why did you decide to learn fashion?
I am a philologist and a teacher by my profession. In the middle of my education at the university I understood that I didn't want to devote myself to it.
But anyway I was afraid to quit the university to do what I really liked.
And I persuaded myself that my profession was prestigious. Only when I moved to another country I noticed I didn't have any wish to work in philology. The world of fashion always attracted me: glossy magazines, fashion shows, glamour shootings. I would like to see my clothes items on a runway (I like to sew). But I knew the thirst thing I needed was to get basic knowledge. And after many hours of a research I found Italian E-Learning Fashion School. I liked that they used a European techniques. Even if I don't live in Europe I know that a European style is very popular among Americans.
In your opinion, is e-learning form of education effective in mastering style and fashion skills?
All the materials are given in a clear form and it felt like I attended the on site courses. I had all my home tasks checked quickly and got detailed comments from Italian teachers. The most important thing is not to be afraid to make mistakes and to do the best you can. I was also happy with a great amount of links and additional materials. I added many sites to my checklist.
What are the results of your education as a wardrobe stylist?
I live in a small island where there are many tourists and they don't even think of how they look on holidays. I want to change this point of view and to show them that they may look great even in swimsuits. And I also hope I will take another course in Italian E-learning Fashion School.
All the materials are given in a clear form and it felt like I attended the on site courses.
Margarita Morozova, 25, Key West, USA