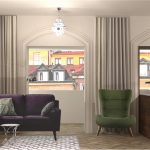 Graduated from the "Interior Design and Decorating" courses online
Madina Yussupova tells us about her studies:
I decided to study the Interior Design course because while working as a graphic designer I did, among other things, visualization of the interior in 3D Max according to the customer's sketches. But in the process of work, I had to make changes to the interior, so in order to give the right advice, I need the knowledge of an interior design. And in the future I want to work more in-depth in this direction in order to plan the interior design from scratch.
In studies I like the personal account and how everything is planned. Each lesson lasts about 15-20 minutes, that is, you don't get tired of listening to the lesson. The information is quite understandable. I really like the feedback, comments, which help to come to the right result.