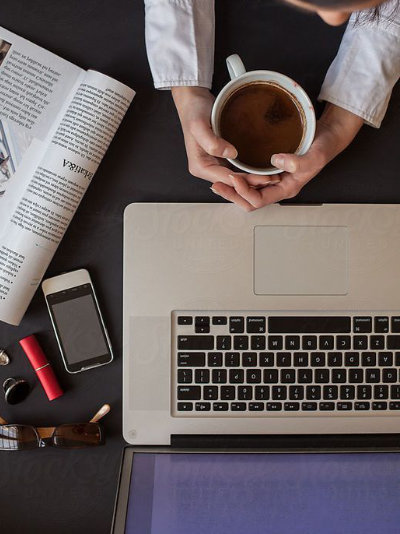 Interior designer is a creative and interesting job that brings a large income.
We will tell you what an interior designer does today and what his salary is.
Do you want to become a successful interior designer?
Study interior designer in Italy online
Who is an interior designer and what does he do?
All interior designers can be divided into 2 categories.

1 category:

an interior designer who works in a specialized design office.
In this case, the interior designer is part of a team that includes architects, visualizers and construction teams. The bureau receives orders from clients and develops plans, focusing on the wishes of the customer. It often happens that the interior designer in the office does only a certain part of the work (for example, only draws plans in Archicad or only meets with clients). Work in the bureau will appeal to those for whom the determining factors are stability and the possibility of career growth. This is a full-time job with holidays and a fixed salary.

*Salary: in Europe – from 1500 to 3500 euros.

You can work as an interior designer all over the world online and offline.
2 category:
freelance interior designer.
In this case, the interior designer does all the work himself. He himself takes orders, develops plans, makes measurements. These designers can also conduct architectural supervision over the implementation of the interior project. Practically, freelance designers always have their own construction team, which performs projects for clients. Working as a freelance interior designer, you will implement the full cycle of creating a project. However, you can hire helpers or even set up your own design office.
*Salary: The income of a freelance designer can be very high, it includes:
1) payment from the client, which depends on the number of square meters in project;
2) % of the customer's purchase in hardware stores;
3) % of the construction team that completes the order for the client.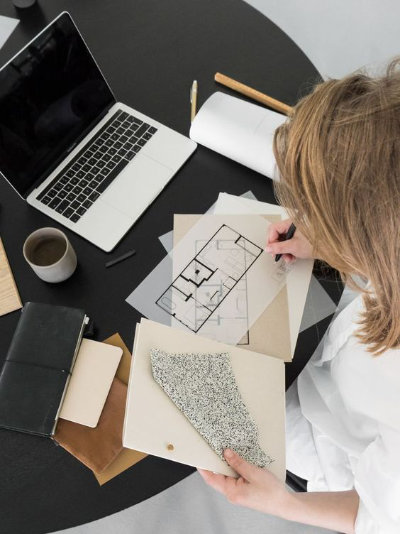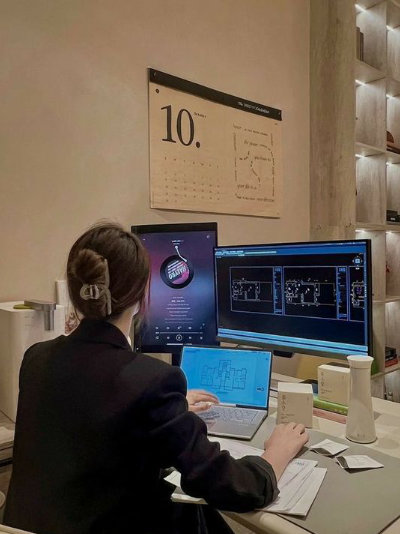 How to become an interior designer?
All education, where people study as an interior designers, can be divided into 2 options.
1 option:
Full-time study at the university 4 years bachelor, 5 years specialist or 3 years master's degree.
This is the most fundamental option, but most often the education is not an interior designer, but an architect. We advise you to choose this option if you have just graduated from school and have not yet received any higher education or if you have a lot of free time. It is better to choose European institutions.
Pros:
fundamental education: there will be many theoretical disciplines related to architecture, mathematics and science. You will not only know the interior, but also understand all the basics of constructing buildings, creating engineering structures, etc.
Cons:
not suitable for those who want to quickly master the profession of an interior designer;
you need a lot of free time to go to university every day;
there are many universities in Europe, which give a lot of theory and practice and do not give the practice of working as an interior designer and the skills to use computer programs. You seem to have graduated, but you don't understand what to do with this theoretical knowledge;
the cost of studying as an interior designer for 1 year of study is quite high. For example, in Europe, education costs 10,000 – 20,000 euros per year.
Examples of well-known universities that train architects and interior designers:
Florence Design Academy in Florence
The Interior Design School, London
Pratt Institute, New York
2 option.
Training interior design courses in person or online.
This is the best option for those who do not have time to attend university and who want to quickly master the profession of an interior designer. So many working interior designers say that such a course is enough to start in this profession. And it is not necessary to study 3 years at the institute. However, practice is very important.
Therefore, after studying on the course, it is worth trying to work as an assistant to an interior designer, so that in practice, under the guidance of a mentor, you can start working with real clients. As in the first case, it is better to choose European interior design courses, as there are more advanced and up-to-date knowledge and skills in the field of interior design.
Pros:
fast learning (6 months – 1 year);
you can study without leaving your family and work;
if you choose online courses, you can generally study at a convenient time from any country;
get practical tools that can be immediately applied in the work of an interior designer;
you can choose different specializations that you need: home design, restaurant design, hotel design, and so on.
You can study online in Italy on the course "Interior Designer". The training lasts 8 months, the course is taught by Italian architects from Milan. Upon completion, a European certificate is issued. There is an opportunity to do an internship as an assistant interior designer.
Cons:
friends appear at the university, new connections in the field of interiors, it is more difficult with this at the courses;
not everyone can discipline themselves and complete the course to the end.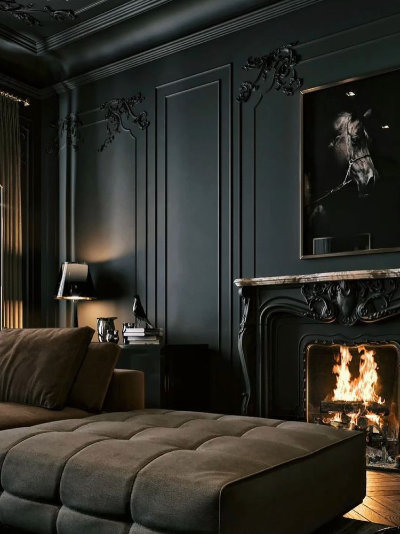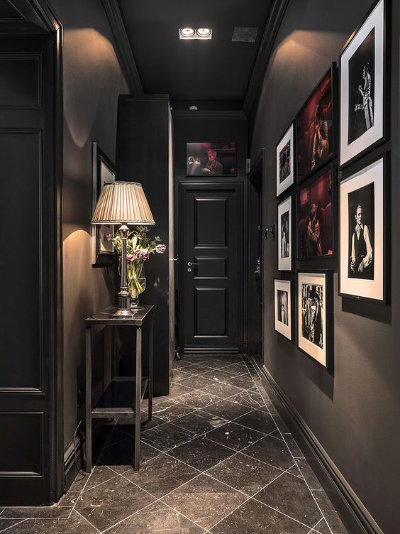 Which interior design courses to choose?
Program of the course.
When choosing courses or a university to study as an interior designer, be sure to pay attention to what you will be taught. Now in some schools there are big shifts: they teach mainly computer programs, and the principles of interior planning, art history and style are almost not taught at all. And it turns out that a person can make a beautiful visualization on a computer, but he doesn't come up with it himself, but copies ideas from the Internet.
Teachers.
Look carefully who will be your teacher. These should be real architects or interior designers who have been working in this field for a long time and in practice understand the main problems with clients. Do I need to choose courses that offer employment after graduation? Some interior design courses offer students an immediate job security after graduation. You are told that all you need is a beautiful portfolio. This is where the problem lies. Nothing will immediately hire a graduate student in a design bureau for the position of an interior designer. They will simply refuse you.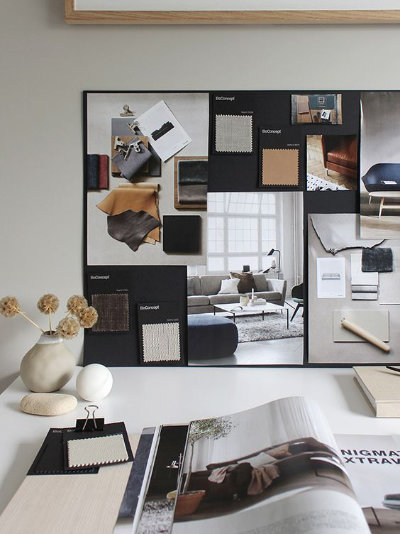 Which interior design courses to choose?
We recommend studying in Italy online on the full course "Interior Design". You can choose to study home design or commercial design or take a full year course.
What is the program of an "Interior Design course"?
Italian designers and architects from Milan are teaching you interior design.
Your training is accompanied by a personal mentor who checks all your practical projects and gives feedback.
You learn to create layouts and interiors by hand and in computer programs.
As a result, you receive a state-recognized diploma in the profession of interior designer + certificate in English and Italian.
Your training is accompanied by a personal mentor – an interior designer from Milan.
Your knowledge is the engine of your wealth.
Education in the Italian E-Learning Fashion School is the most affordable in terms of price – quality. By investing a little in yourself at this stage, you will secure real income for yourself in the near future. You have the opportunity not to pay for the course as a whole, but to study in installments.
School Career Center.
You will receive bonus lessons where interior designers from Italy will teach you:
to look for a job for a novice interior designer in Europe;
how to compose your portfolio;
how to search for clients and open your own design bureau.
As a result, you can take an online internship in a real design bureau as an interior designer assistant.
What will you do during the studying?
 draw drawings of apartments from the hand;
create 2D apartment plans in ArchiCAD;
create a 3D layout of the apartment with the display of furniture and finishing materials;
take measurements of the apartment;
create concept plans and color palettes for interiors;
draw up a list of finishing materials;
visit hardware stores;
start building a portfolio for future work as an interior designer.