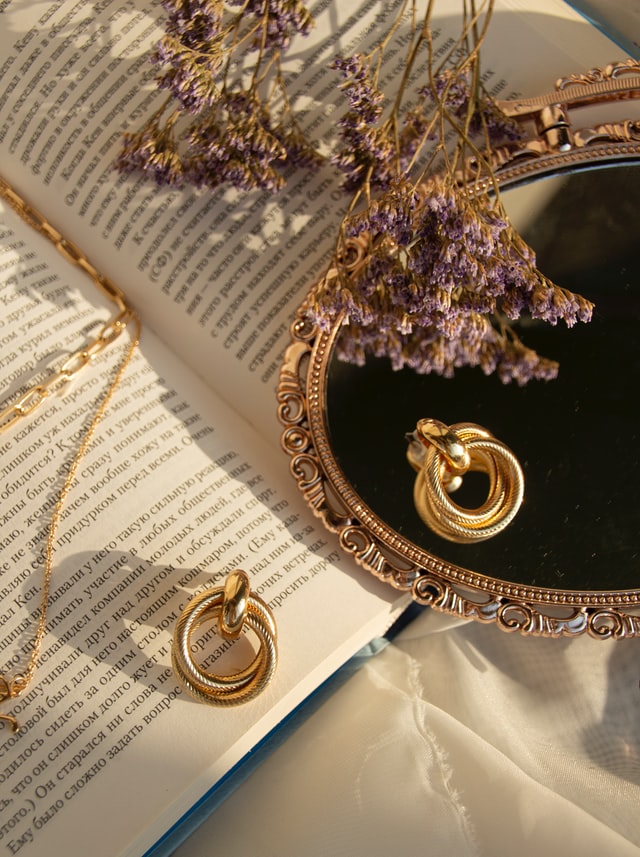 The image looks more complete if you add the right accessories to it. But how to choose the right one?
The right jewelry can complete your look perfectly. And if you choose them incorrectly, they can ruin even the most beautiful outfit, and there is a risk of looking awkward and tasteless.
There are 2 ways to wear and combine jewelry – the classic version and the fashionable version. You can choose one of the options based on the purpose of your outfit.
Our Italian stylists gave the advice how to wear jewelry today.
Do you have good taste? Do you like fashion?
Become a professional image consultant and make a lot of money
Enroll in the "Certified Image Consultant" course and study in Italy online
Think about the occasion
As with choosing clothes for a particular occasion, you need to select the appropriate jewelry. It is traditionally believed that there are things that are too simple for formal events, and there are accessories that are too extravagant for everyday use.
In this case, the classic approach on how to choose jewelry for a set of clothes is as follows:
When choosing jewelry, the event will determine which jewelry you choose. If you're dressing up for some celebration, party or date then elegant and formal pieces are the way to go. Use beautiful jewels in a classic style.
If you're dressing up for work or a business event, it's always best to stick with the traditional approach.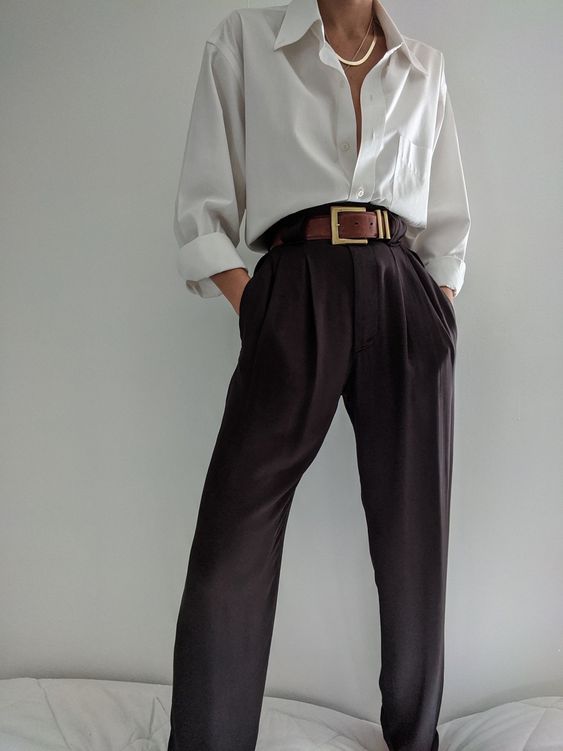 Photo source: https://www.pinterest.ru/pin/20618110785443286/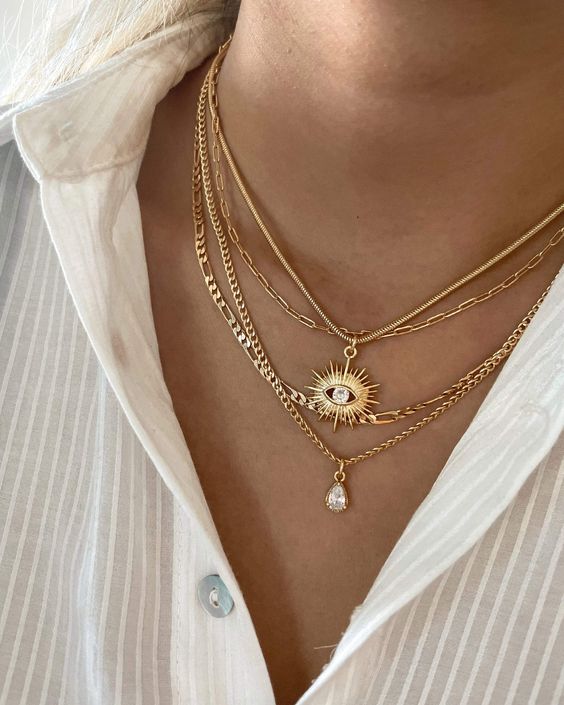 Photo source: https://www.pinterest.ru/pin/625367098269409839/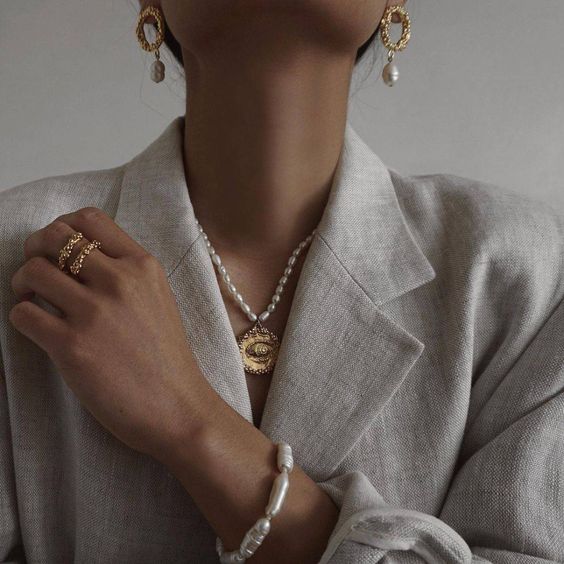 Photo source: https://www.pinterest.ru/pin/295478425562748961/
If you want more trendy look, then, on the contrary, break this rule. Сombine your evening wear with the plastic jewelry.
And a basic casual set (jeans and a T-shirt, for example), on the contrary, match with large necklaces with stones or catchy rings with rhinestones.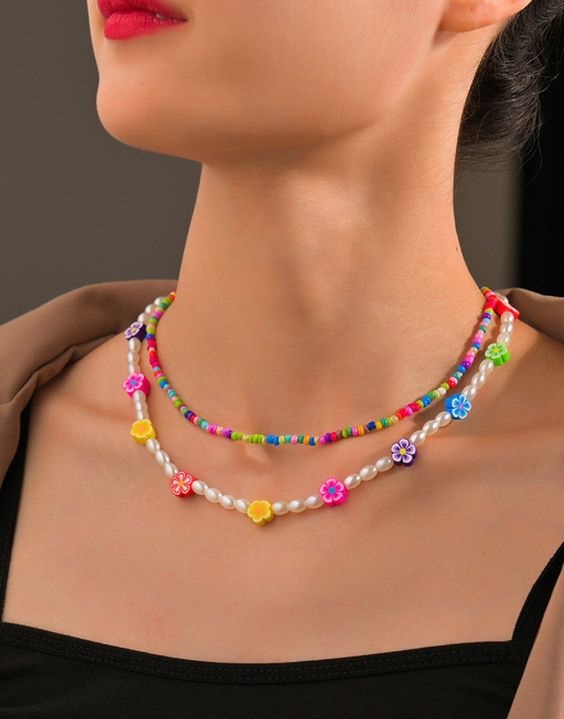 Photo source: https://www.pinterest.ru/pin/571394271485252255/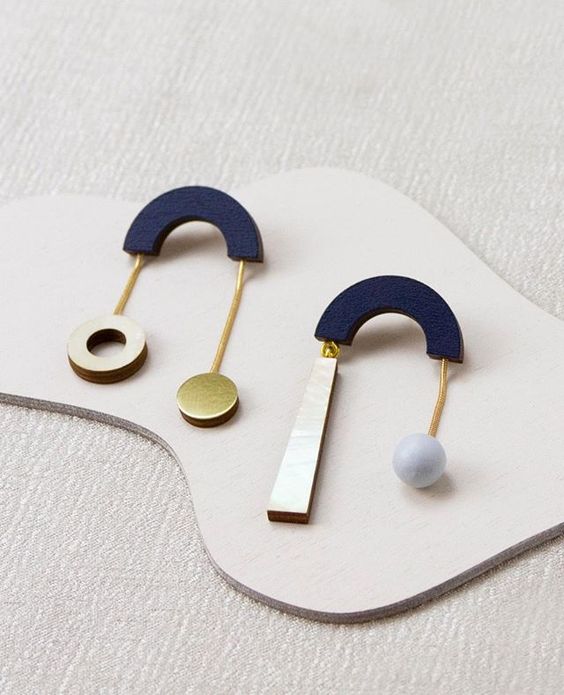 Photo source: https://www.pinterest.ru/pin/37576978133211340/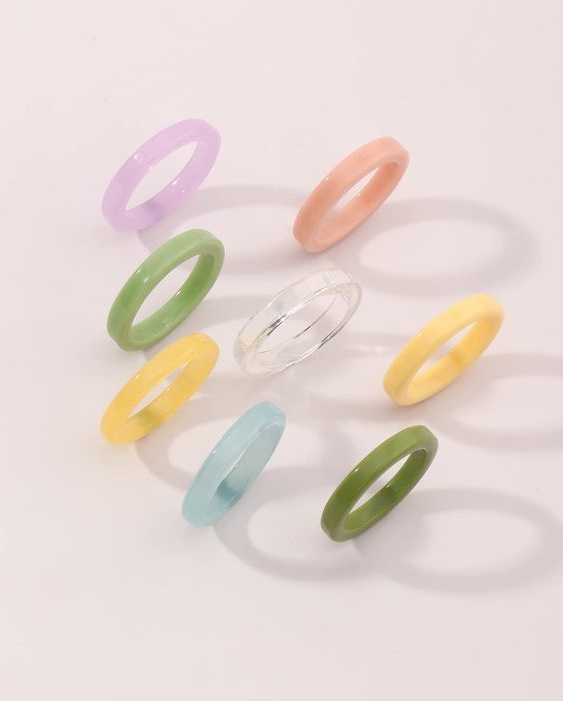 Photo source: https://www.pinterest.ru/pin/571394271485544877/
Complete the neckline with some jewelry
When it comes to a necklace or pendant, pay attention to the style of the neckline on tops and dresses. Ideally, they will look good together without overshadowing each other.
The wrong necklace that doesn't match your neckline can create a dissonance that ruins the whole look.
Traditional rule:
It's best to focus on the shape of the neckline and let the embellishments follow.
As a general rule, your necklace should end a couple of inches above where the neckline begins. Long pendants look best with simple cutouts and a lack of detail. The more skin you show, the more visually complex your necklace can be.
For a fashionable look, you can not follow these tips and choose jewelry of absolutely any length and shape. Moreover, more relevant this season will be the use of several decorations at once together. Even if they generally differ in style and materials.
For example, a chain in combination with a beaded necklace with a pendant; bracelets made of beads, natural pearls, wood and plastic at the same time.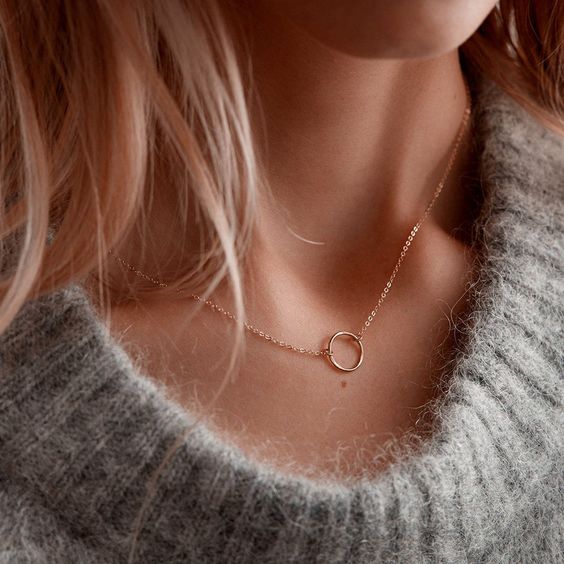 Photo source: https://www.pinterest.ru/pin/155303887425416601/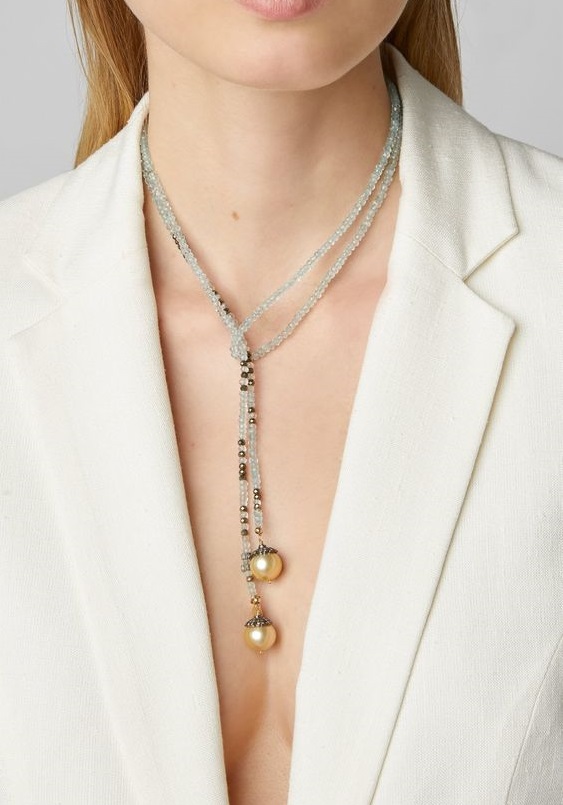 Photo source: https://www.pinterest.ru/pin/289778557281966054/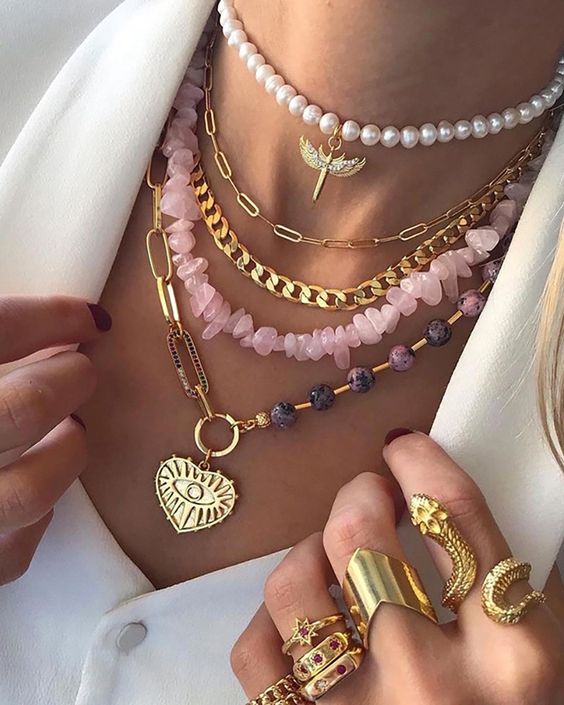 Photo source: https://www.pinterest.ru/pin/1102889396230443248/
Decide on a style
The classic approach to the selection of jewelry: jewelry is selected according to the style of the outfit.
Do you like wearing classic suits? So it is worth putting on a thin gold chain or a pearl thread.
Do you prefer a black leather jacket, jeans and rocker boots? So put on a thick silver chain.
A mix&match outfit will be more relevant and trendy.
You don't try to create an image in one style, but on the contrary, you combine several styles together.
The simplest option – all clothes are selected in one style, and jewelry – in another, preferably in the opposite. So the contrast of styles will make the image more dynamic and interesting.
For example, for a classic suit, wear a thick chain with a catchy rock-style pendant or sports-style plastic bracelets.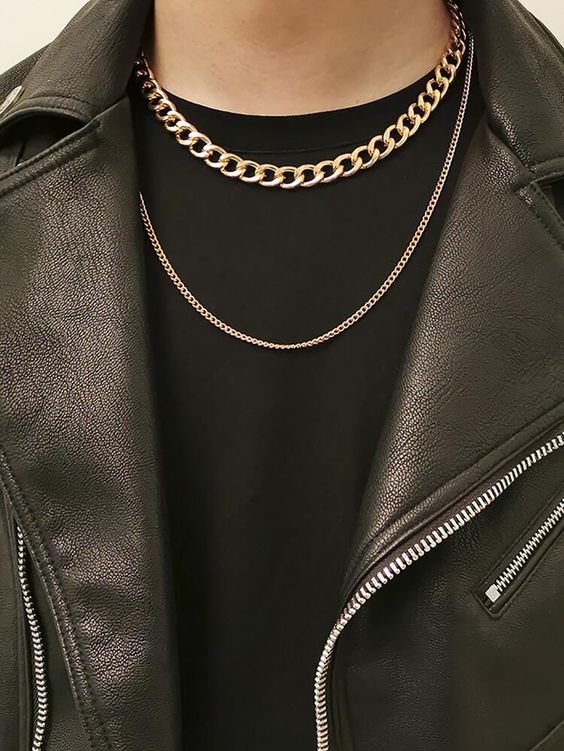 Photo source: https://www.pinterest.ru/pin/527765650091256241/
Photo source: https://www.pinterest.ru/pin/145030050490756209/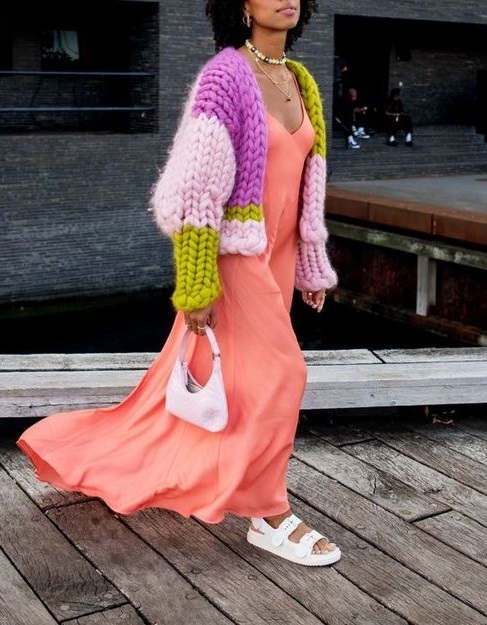 Photo source: https://www.pinterest.ru/pin/38491771806730365/
Choose a focal point
Classic approach:
It is traditionally believed that in order to make your outfit look thoughtful, it is best to choose one accent. Pairing a few bright pieces together can make your outfit look frilly and gaudy. And your jewelry can overload your look rather than complete it.
Think about your main types of jewelry: earrings, necklaces, bracelets, and rings. With each outfit, you must choose one or two categories in which jewelry is considered spectacular.
This means that you should avoid wearing a pair of large earrings and a flashy pendant together. This is how you overload the top of your outfit, leaving the bottom unbalanced.
Instead, try a bright pair of earrings with a simple necklace. If you want to use both things, big earrings are best worn with a large bracelet and rings.
There should be one item that stands out and other decorations that complement that accent.

This option should be chosen by everyone who is not confident in their stylistic skills and does not want to take risks. This approach always looks beautiful, because the image of a person looks harmonious.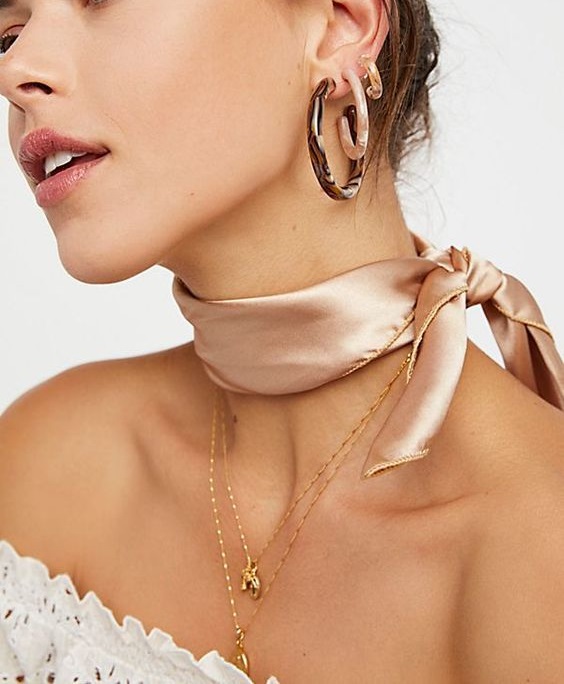 Photo source: https://www.pinterest.ru/pin/235594624243928967/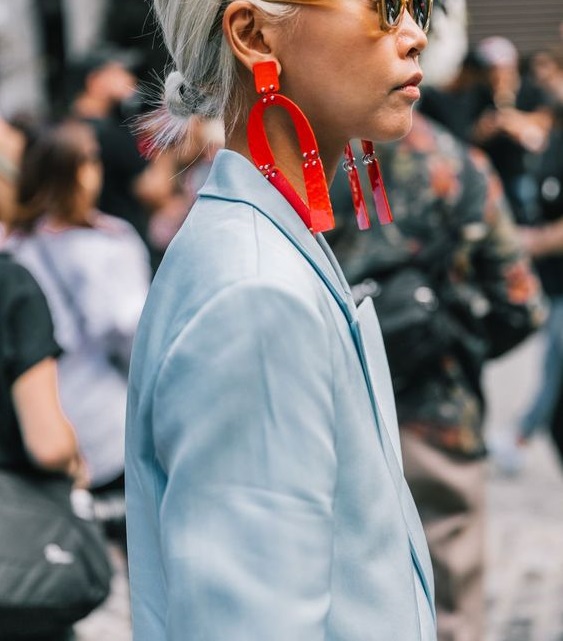 Photo source: https://www.pinterest.ru/pin/3729612220733941/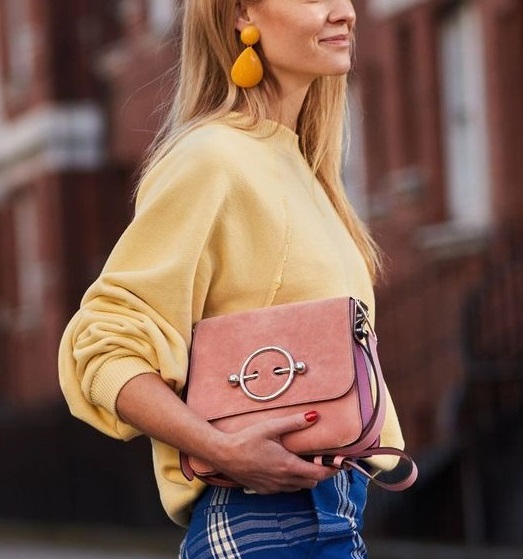 Photo source: https://www.pinterest.ru/pin/401031541822292083/
Trendy option:
If you like to dress boldly and draw attention to yourself, you can choose a fashionable approach.
Now in fashion is the combination of several large jewelry together.
For example, not one massive ring, but 4 or 5 large rings at once. Not one wide bracelet, but 3 or 4 bracelets at once.
Be careful – wear several massive jewelry together only on those parts of the body that you consider your dignity.
Choose different sizes and shapes of jewelry and combine them together. Gemstones, beads and chains can be combined with each other if you stick to the style and color combination.
It is necessary to select correctly the length of the necklaces and the thickness of the bracelets. The key to the right combination of different categories together is to have a common theme. Whether it's metal, color or style, it's up to you.
You can give the impression of controlled chaos when you wear different pieces of jewelry together. But try not to overdo it with a bunch of decorations! It is important to choose the right amount of jewelry so that together they make the image better!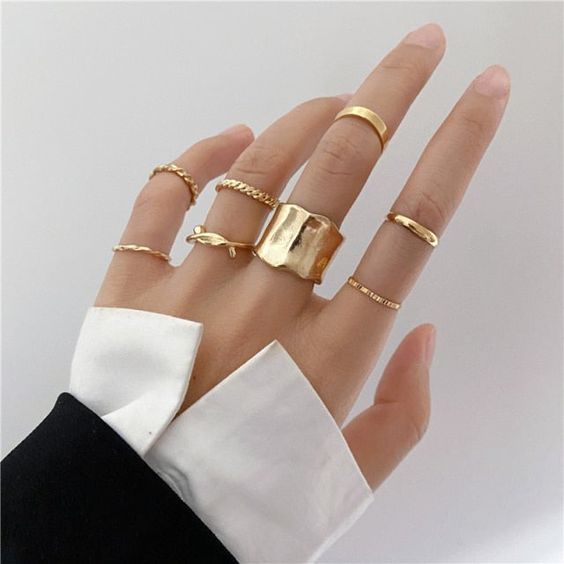 Photo source: https://www.pinterest.ru/pin/847943436101908567/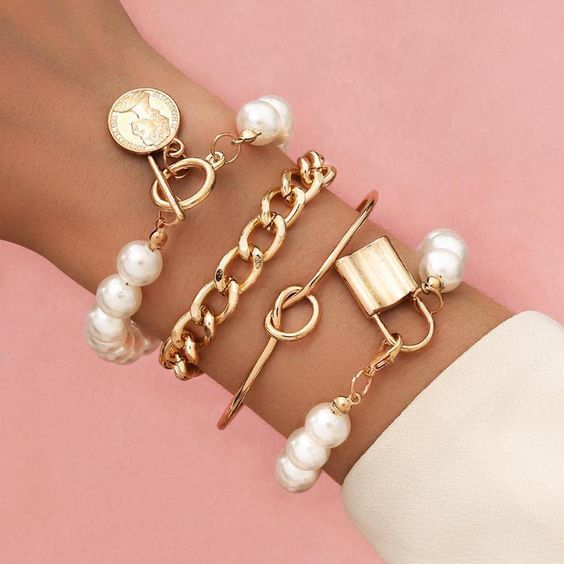 Photo source: https://www.pinterest.ru/pin/600386194077015489/