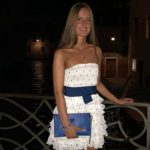 Lucrezia Pedersoli
Fashion Journalist (Italy, online). Italian and English languages
I am fashion addicted, who loves reading about fashion (magazines, books). I try to read fashion news regularly.
I like creating outfits, so I can show my fashion tips, in order to show the power of fashion and beauty!
I would like to help people to feel better, thanks to clothes and make up. Self confidence is the secret.
My experience: internship at Ielfs like an associate for school' s blog / social.
Internship in a fashion agency (booker internship), internship in a fashion agency (assistant).
Studies: languages (English, French, German, Chinese) and Fashion