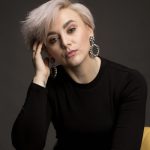 Valeriya Gertz
Personal stylist (Russia, USA, online). Russian and English languages
Trainer as a styling coach for IELFS projects
Fashion expert, fashion stylist and journalist, image blogger, writer, founder of the Internet portal about cultural fashion UinStyle.com and chief editor of the network of Federal lifestyle magazines INV IN RUSSIA
A graduate of the Italian school of style in the areas of personal style, fashion photography, fashion journalism.
Current Member of the Association of Stylists of Europe and winner of the Fashion person 2019 award according to Magfashionaward (international fashion forum).
The practicing stylist since 2012, more than 3 years works with stars of Moscow, actively cooperates with the Russian designers. This year she released a collaboration with the brand INV DESIGNER with a children's collection spring summer 2019 IQ JUNIOR.
He is a regular guest of fashion shows Mercedes Benz Fashion Week Russia .
The inspired of the movement #stylishpeople, coach lecturer #mommyblogging
Founder of fashion project FWB (Fashion Without Boards).
Teacher of style, ethics, modeling and public speaking in a number of model schools.
Ready to work with your Style and wardrobe online, shopping and photo-shoot can be in Europe and USA