Certificate
European certificate
Become a successful Visual Merchandiser!
From 10 to 17 June get 50% discount on the course.
Since 18 June it won't be available anymore.
Become a Visual Merchandiser –
study in Italy online on Visual Fashion Merchandiser Course
Who is a Visual Merchandiser?
Visual fashion merchandiser — is a person who can transform any clothing store into a fashion boutique with high sales

Visual merchandiser is a well-paid job in any country

If you have your own clothing shop, visual merchandising will help you to increase sales 4-5 times
Everything you need to become a fashion visual merchandiser is to study on this course.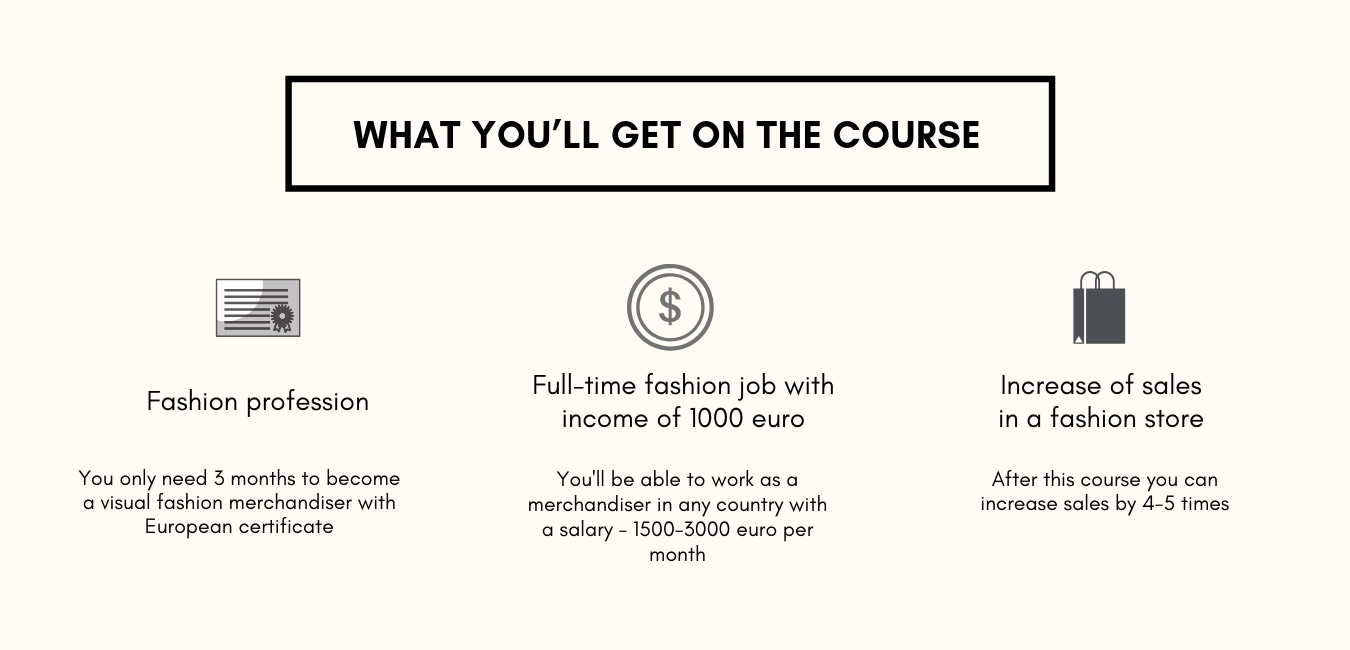 GOING FROM THEORY TO PRACTICE
This fashion merchandising course is all about practise. You will have a lot of practical instruments and skills. During course you will start to work as a visual merchandiser.
1 Module Window displays
basic principles of window dressing and visual merchandising
how to create an effective store window display
merchandising of window displays in a clothing store
effective use of colour within window display
effective use of lighting within window display
how to make a fashion window display
window display in a period of discounts
current window display trends
mannequin styling
mistakes in window design
Practise:
– Window display analysis of fashion shops
– Creation of a window display for a real clothing store
2 module

Visual Merchandising Techniques
fashion concepts of a clothing store
how to create effective sales floor layouts
hot and cold zones in a clothing store
merchandising tools
colors in visual merchandising
how to create corners in a shop
color schemes for a fashion shop
effective merchandising product ranges
impulse selling zones
merchandising on walls
all the ways how to present clothes in a shop
how to effectively merchandise a table
successful and unsuccessful examples of store design
smells and music: what to choose for a shop
uniform of staff in a shop
Practise:
Analysis of corners in a fashion shop
3 module Hotspots, displays and promo areas inside shop
store visual merchandising and product presentation methods on displays
creating of the displays in the store
what is a hotspot or a display
types of displays
asymmetry, symmetry, pyramid displays
how to make thematic displays
styling of mannequins on displays
impulse selling at cash desks
the rules of composition in creation of displays. use of light
Practice:
Creation of displays and focal points in a real boutique
4 module Career of a Visual Merchandiser
Job of a visual merchandiser
How to search for clients to work as a freelance visual merchandising consultant
Merchandising trainings in a clothing store for a staff
How to make planograms and develop standards of visual merchandising
Presentation of a merchandising plan to a new client
Practice:
Negotiation with a fashion shop – work with a first client
Final project: Creation of Visual Merchandising Book
Work as a visual merchandiser for a real fashion shop
Creation of a Visual Merchandising Book for your portfolio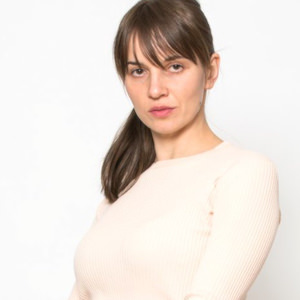 Ekaterina Kulakova
Visual merchandising consultant and fashion buyer for clothing shops
Training manager in retail networks of clothing stores and footwear (brands Burberry, Chaumet, DKNY, Escada, NAF NAF, Salvatore Ferragamo, SONIA RYKIEL, Guess, Timberland, Wolford)
Director of personal shopping and fashion buying agency in Italy, England and France
Marketing and development director in Italian E-Learning Fashion School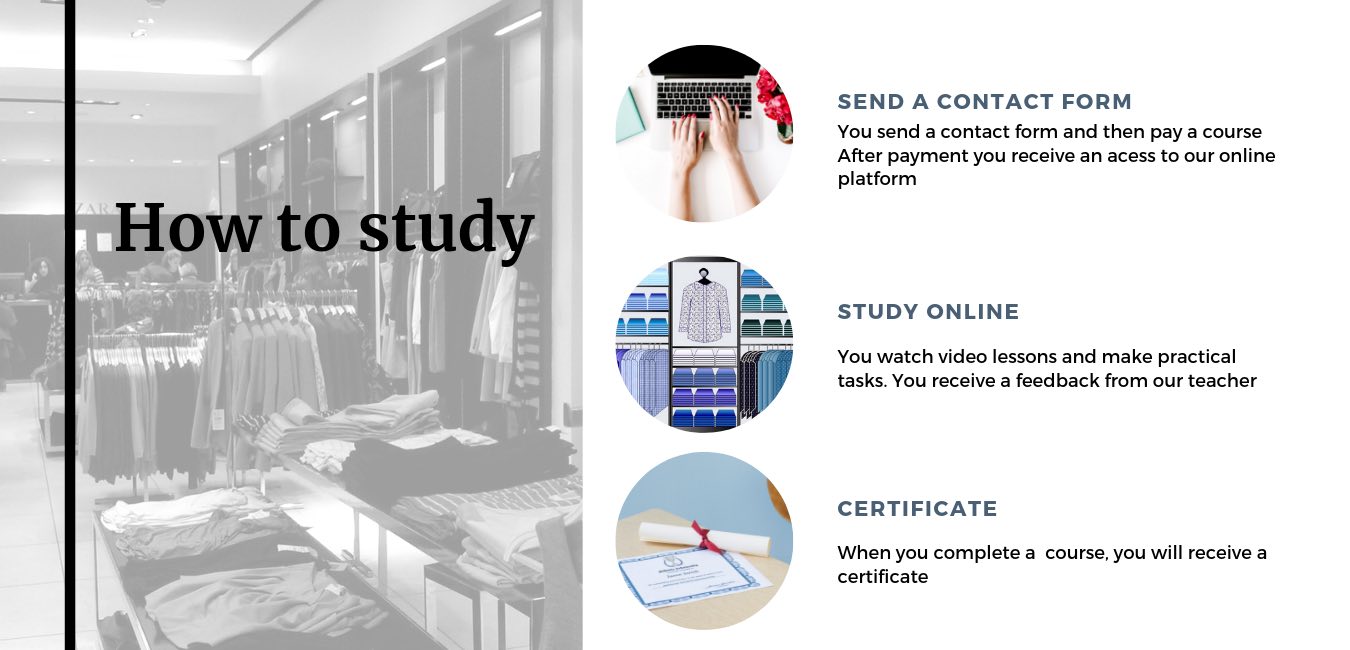 WHO CAN ATTEND THE COURSE
The visual merchandising course online is created for those who want to work as a Visual Merchandiser or who have a clothing shop.
No previous experience and education in merchandising or fashion is required.
START DATE
It's a visual merchandising e-learning – you choose when to begin your studies. You are free to choose the time to study whenever you can and wherever you want. On average, the education process on this course takes up about 3 months. You may complete the course faster or slower, in accordance with your own schedule.
You will have a life-time access to all materials of the course.
LANGUAGE
All the lessons and practical home tasks are in English.
WHAT YOU NEED TO STUDY
You can watch video lessons and complete home tasks on your computer, phone or a tablet at any time and in any place. All you need for your studies taking visual merchandising courses is the internet access and a computer/smartphone/tablet;
HOW TO ENROLL
1. Choose the plan of the retail design courses online in the price area and click "Order now"
2. Fill in the information about you in a contact form
3. We will send you all the details about possible ways of the payment (we accept payments via paypal, Visa, MasterCard, Maestro, bank transfer etc.)
4. After making a payment, during 1-2 working days, you will receive a password to access the e-learning portal where you may find video lectures of the retail visual merchandising courses, tests and practical projects to begin your studies in the Italian E-Learning Fashion School
5. Watch video lessons, complete practical projects and assignments related to a merchandising course
Any video lesson in the retail online courses can be put on pause at any time, and you can review the parts you didn't understand at first, which is impossible at the on-site course;
6. At the end of your visual merchandising online courses you should complete the final project on creating a merchandising plan for a real clothing shop, which will be evaluated by our teachers
EUROPEAN CERTIFICATE
Having finished the course and completed practical projects and assignments, the student receives a certificate. The certificate is provided in English and Italian languages. The mailing of the certificate at fashion merchandising courses online free for standard and premium versions.
Christina Noskova
I never even dreamed to have such a profession!!!
So I had no doubts, bought the course and started to study.
What pros I found here:
– online education
– great speakers. When I was listening what the teacher was saying i had a feeling that im sitting next to she. The information was given so easy and in an understandable manner. There were a lot of examples.
– also I want to admit the information about representing yourself as a specialist
– recommendations on home tasks — thanks for help! I'm every grateful for everything I got in this school!
Katerina Dorofeeva
I had the greatest difficulties with window displays, but after taking a course in Italian E-Learning Fashion School, I got many ideas for creating and, most importantly, implementing window display projects.
I got a good knowledge of fashion merchandising, during course i prepared a project for a real women's clothing shop and realized it.
Now I really can call myself a real consultant in the field of visual merchandising.
Olga Dyachenko
I really liked the training, the information was presented in simple language, thanks to practical home assignments, the information was really understandable.
Taking these visual merchandising courses part time I learned how it to create window displays on a certain budget. I found out why you need to split the store into corners, why we need focal points and how to create displays.
Become a successful Visual Merchandiser!
From 10 to 17 June get 50% discount on the course.
Basic plan – 399 EUR – 199 EUR
Standard plan – 599 EUR – 299 EUR
Professional plan – 799 EUR – 399 EUR
Since 18 June it won't be available anymore.
Basic version — 399 EUR
Video lessons
Duration of the course – 6 months
Partly payment — no
Standard version — 599 EUR
Video lessons
Practical tasks during course
Evaluation of the home tasks by the teacher
The detailed feedback to the final project Merchandising Book
Certificate
Free mailing of  certificate to your postal address
Duration of the course – unlimited
Partly payment — 279 euro per month
Professional version — 799 EUR 
For those who want the best result choose individual coaching program
Video lessons
Practical tasks during course
Evaluation of the home tasks by the teacher
The detailed feedback to the final project Merchandising Book
Certificate
Free mailing of  certificate to your postal address
Duration of the course – unlimited
Online program of individual coaching with the teacher for 3 months
Extra tasks from the teacher and the feedback every week
Trend Report: fashion trends of this season in men and women clothes