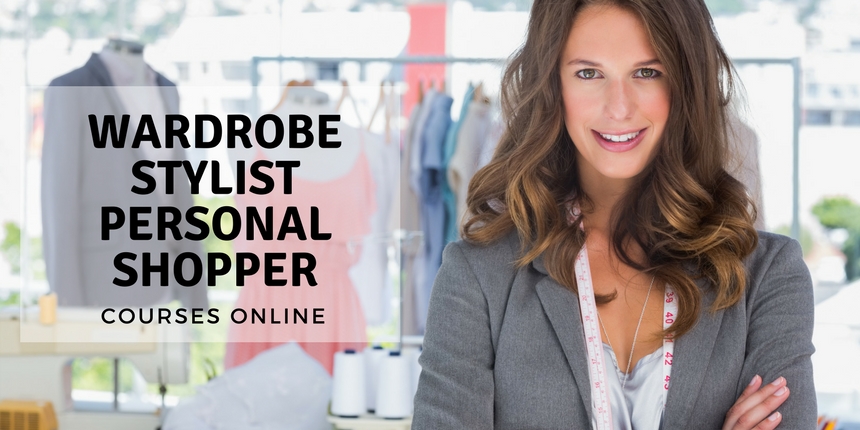 Become A Wardrobe Stylist & Personal Shopper
From 14-10 till 21-10 get this course with the 50% discount
From 22-10 the promo won't be available anymore
Wardrobe Stylist & Personal Shopper courses online
Would you like to get a new creative profession with beautiful things, interesting people and earn good money for your job?
Would you like to update your own style?
Would you like to try yourself in fashion?
If you answered yes, the "Wardrobe Stylist and a Personal shopper" course is the right choice for you
Why to choose this course
1 course=2 professions
After this course you will get 2 professions: Wardrobe Stylist and Personal Shopper
50% time – Practise
During course you will make wardrobe analyses, image consultations, personal shopping sessions for real clients
Start to work
After this course you can subscribe Association of Image Stylists and Personal Shoppers and get clients with our help
All the lessons are given with the English subtitles.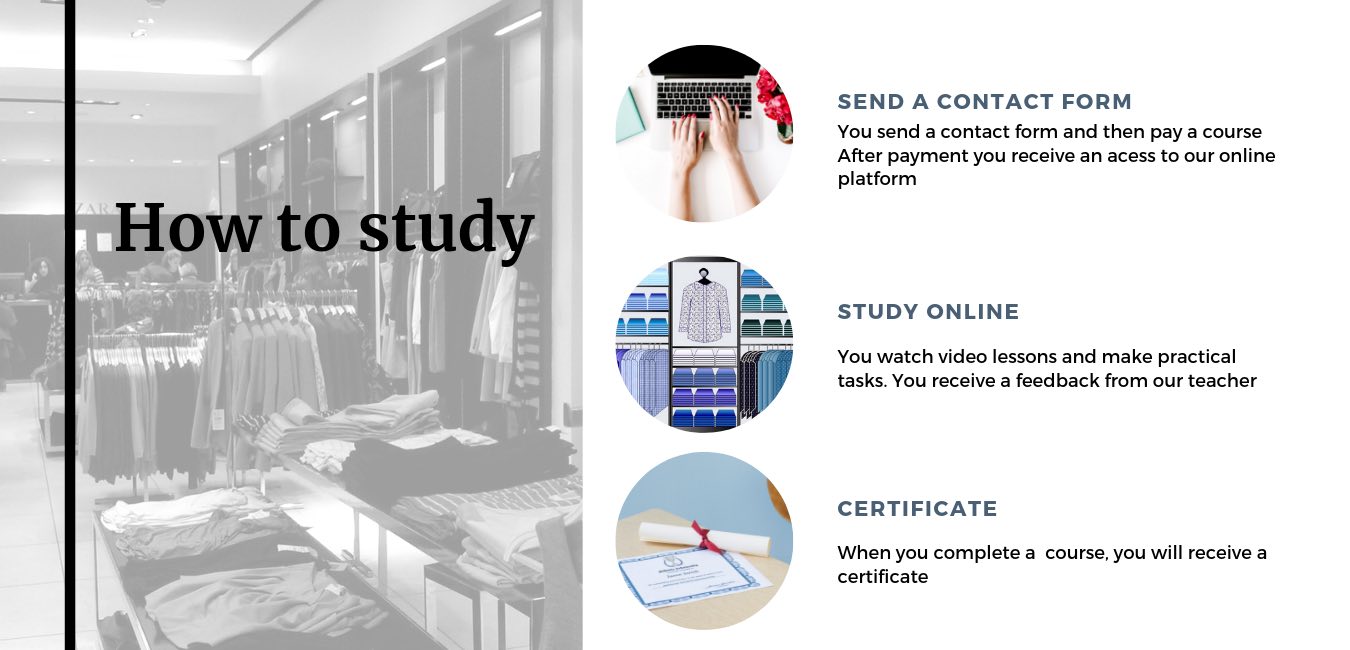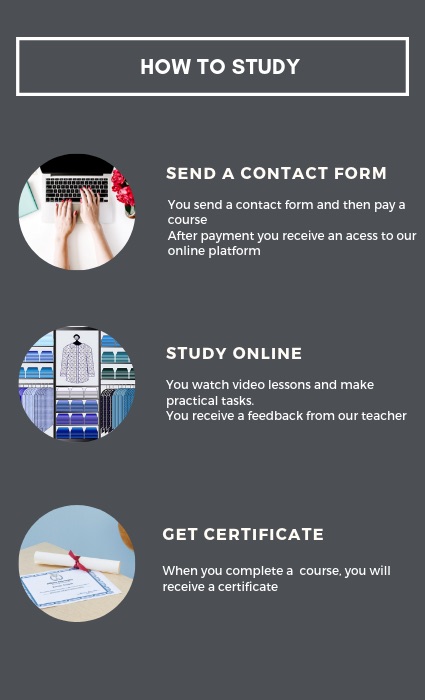 START DATE
You choose when to begin your studies. After paying for the course, you will receive a password to access the e-learning portal. After that you're free to choose the time to study whenever you can and wherever you want.
On average, the education process on this course takes up about 3 to 6 months, after which you can become a personal stylist and an image consultant and start to work with clients. However, you may complete the course faster or slower, in accordance to your own schedule.
You can have life-time access to all materials of the course.
LANGUAGE
All the lessons and practical tests are in English.
WHO CAN ATTEND THE COURSE
The course on how to become a wardrobe stylist and a personal shopper is created for those who never studied or worked in the fashion & style before. No previous experience and education is required. You will follow the course step-by-step from the basics to professional secrets.
You could study "Wardrobe Stylist and a Personal Shopper courses online" as part of our "Professional Image Consultant Courses online" or use it within your existing image consultancy business.
WHAT YOU NEED TO STUDY
All you need to study is the internet access and a computer/smartphone/tablet. You can watch video lessons (with the English subtitles) and complete home tasks on your computer, phone or tablet at any time and in any place.
HOW TO ENROL
You choose the plan of the course in price area and click "Order now";
We will send you all the details about possible ways of the payment (we accept PayPal, Visa, MasterCard, Maestro, bank transfer etc.)
After making a payment, during 1-2 working days, you will receive a password to access the e-learning portal where you can find video lectures, tests and practical projects to begin your studies in the Italian E-Learning Fashion School;
You may watch video lessons, complete practical projects and assignments related to combining styles, colours, clothes and accessories. Any video lesson can be put on pause at any time, and you can review the parts you didn't understand at first, which is impossible at the on-site course;
At the end of your style course on how to become a personal stylist you should complete the final project on changing the image and style of a real person, which will be evaluated by Italian teachers.
DO YOU NEED TO GO TO MILAN TO FOLLOW THIS COURSE?
No, to complete this course you don't need to spend money and time on travelling to Italy.
You can sit at home or in a cafe and study whenever you can and whenever you wish. All lessons of the "Wardrobe Stylist and a Personal Shopper" will be provided online from Milan  the Italian teachers.
After finishing the course, completing practical projects and assignments, the student receives a certificate on completed studies, specifying the topics covered. The certificate is provided in English and Italian languages.
Nadezhda Pushchayeva, Italy
In the course of training I got, in my opinion, all necessary basic information and a lot of new and useful for work. Very useful comments from teachers! They helped to apply the gained knowledge correctly. I liked the idea and competent approach to work of your team.
Natalya Resanova, Germany
I was free in time for listening of lectures and performing the tasks, I had an opportunity to return to the earlier listened lectures at any time. There were absolutely no pressure from teachers and the curator concerning home works, I performed them in my rhythm.
Elena Berkovich, Israel
I was looking for fashion and style courses for a long time, but I was attracted by the Italian school because I wanted to learn the methods of work in Italy. I received great pleasure from studies and teachers, your homework is very serious, because sometimes I had to redo it, the teachers were strict, but fair. .
Anna Vdovina, Ukraine
I am very glad that I managed to find the Italian E-Learning Fashion School — the first remote European school of fashion, style and image. For me it was the Pandora's treasure: very interesting, modern and, undoubtedly, practical for my work. For half a year of training I was introduced the new sense in my work and vision of stylistics and photo shooting.
Albina Bilgi, Turkey
I really like your team of teachers, coordinators answer all the questions quickly during the course. The school supports students even after graduation. Wish to continue over and over again and level up.
Tatyana Koroleva
I liked that there was a lot of information and it is understandable:  fashion trends, rules for clothes selection. Online form probably is one of the most acceptable forms of learning. You can decide by yourself what time is best for you; you can ask the supervisor for help and get advice.
Svetlana Serenko
My new profession Wardrobe Stylist is the most interesting, creative and it is very popular nowadays. The education at the Italian school is a new step in my professional life. It was here where I learned all the theoretical foundations, got a new profession, which I dreamed about!
Daria Karpovich, Belarus
Thanks to all the Italian teachers, I want to continue developing with you. I have satisfied clients, it is your merit. After graduating from the course I know that my life will never be the same again.
Elena Stepanchyuk, Russia
Everything is very accessible and interesting, teachers are well-known organizers and directors of Fashion shows in Milan.
I decided to learn immediately from the trendsetters all over the world with a lot of experience and history. Coloristics, body types and corrections in color and style of clothing. Teachers are available to explain everything.
Ekaterina Korotchenko, Ukraine
I wanted to thank all the teachers of the Italian fashion school for the excellent informative training, for the opportunity to be a little closer to the European mentality !!! Excellent basic knowledge, I will continue my studies !!!
Become A Wardrobe Stylist & Personal Shopper
From 14-10 till 21-10 get this course with the 50% discount
From 22-10 the promo won't be available anymore
Basic version — 399 EUR (all inclusive) – 199 EUR
Video lessons
Access period to the course – 6 months
Partly payment — no
Standard version — 499 EUR (all inclusive) – 249 EUR
Video lessons
Practical tasks during course
Evaluation of the home tasks and feedbacks by the teacher
Evaluation of the final project on changing the image and style of a real person
Electronic certificate
Access period to the course – 12 months
Partly payment — 3 months, 179 euro per month – 2 parts, 129 euro per month
Premium version — 599 EUR (all inclusive) – 299 EUR
For those who want best results
Video lessons
Practical tasks during course
Evaluation of the home tasks and feedbacks by the teacher
Evaluation of the final project on changing the image and style of a real person
Original certificate
Free mailing of a certificate on your address
Seasonal color and fashion trend palette for men's and women's clothing
Fashion trend report for 1 year (fashion trends in clothing and accessories for men and women)
Life-Time unlimited access to the course
Partly payment — 3 months, 209 euro per month – 2 parts, 129 euro per month